Texas Tech defensive lineman Tony Bradford Jr. organizes turkey giveaway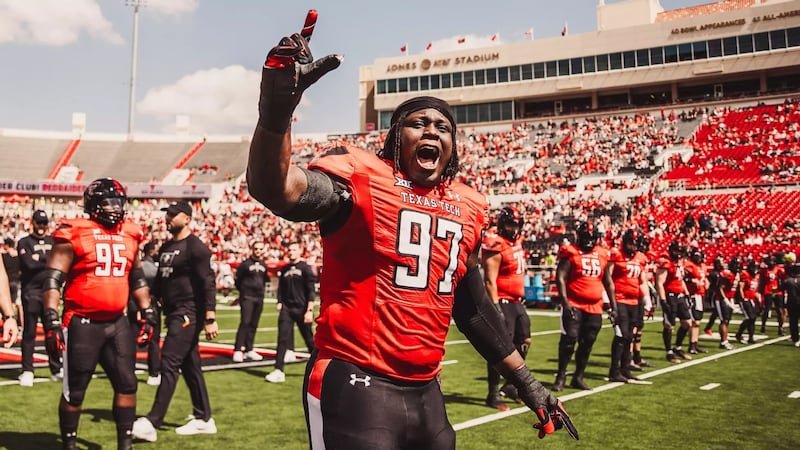 Published: Nov. 14, 2023 at 2:34 PM CST
LUBBOCK, Texas (KCBD) - Tony Bradford Jr., a long-time Texas Tech defensive lineman, organized a community service initiative giving away turkeys to families in need through his own Name-Image-Likeness with Community Baptist Church.
Bradford will buy 100 turkeys of his own with revenue money from the Matador Club's NIL deal. On top of that, though, United Supermarkets gifted the 100 Black Men of West Texas more turkeys to bring the total to around 200 as they partnered with Bradford. He will hand out the turkeys at the church located at 220 Martin Luther King Jr. Blvd in Lubbock from 11 a.m.-1 p.m. on Monday.
As I head into my final game here at The Jones, I wanted to find a way to give back to this community that has given me so much.
I'm proud to announce "Tony's Turkey Giveaway" and hope to see many families in need next Monday! pic.twitter.com/zszou80nh7

— Tony Bradford Jr. (@Tbradford97) November 14, 2023
Members of the Tech football team will join him in distributing the the turkeys through a drive-through setup, according to a Tech Athletics news release, and will be available for pictures as well. Turkeys will be limited to one per vehicle while supplies last.
"As we head into the holiday season, it was important to me to give back to this community, especially those in need in East Lubbock," Bradford said in the release. "This community has given me so much and is forever my home. I'm thankful for the support I've received while organizing this event, including from United Supermarkets, as this will impact so many families that will be able to celebrate together and enjoy a traditional holiday meal."
Bradford is no stranger to community service. During his five years as a Red Raider, he's been a member of the AFCA Good Works Team and has served multiple hours of community service with local schools and non-profit organizations.
Bradford and the Red Raiders are down to their final two games of the season. Tech hosts UCF with kickoff at 4 p.m. on Saturday for the final home game of the season.
Copyright 2023 KCBD. All rights reserved.