Team Red takes down Team Black in intersquad opener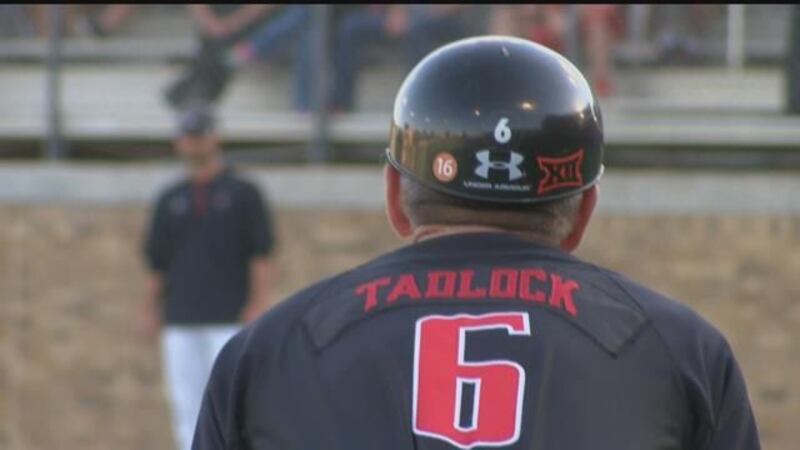 Published: Nov. 13, 2023 at 7:49 PM CST
|
Updated: Nov. 13, 2023 at 7:56 PM CST
LUBBOCK, Texas (NEWS RELEASE) - Powered by a strong start from sophomore Zane Petty and a three-run home run saving catch by Drew Woodcox, Team Red took home a Game One 3-1 victory in the annual Red Black Series opener Monday afternoon at Rip Griffin Park.
On a picturesque fall day in the 806, it was the Red Raider arms and defense that shined, as Petty, true freshman Parker Hutyra and Josh Sanders combined to scatter just eight hits over the seven innings allowing just one run.
On the opposite end, Team Black's Jack Washburn, Hudson Luce and Hudson Parker also looked strong as the trio allowed just eight hits and three runs.
And while the arms shined for Team Red, the defense was equally as impressive, as three different players including Drew Woodcox made highlight reel plays in the field.
Woodcox who started the game in left, recorded maybe the most important out of the game, when with two on and two out, in a 3-1 game, he raced back to the left field wall and leapt over the wall to rob a would-be three-run homer by Kevin Bazzell. The out stranded the tying runs on base in the sixth, and prevented Black from assuming the leader.
At the dish, Team Red used three-RBI base hits from sophomores Tracer Lopez, Will Burns and Dylan Maxcey to close out the 3-1 victory.
After a strong close to the 2023 season and a great summer in the California Coastal League, Petty continued his strong fall, firing four innings of one-run ball.
The one blemish on his afternoon was a lead-off home run from true freshman TJ Pompey. Pompey was a bright spot-on Monday for Team Black going 3-for-4 with the aforementioned lead-off home run that gave Team Black an early 1-0 lead.
Trailing 1-0 heading into the bottom of the second, Team Red found a little two-out magic when Gage Harrelson singled. After Burns walked to set up runners at first and second, Lopez ripped a double down the left field line to plate Harrelson.
After a scoreless top of third ended on one of Petty's three K's on the afternoon, Team Red used a pair of walks to set the table for Dylan Maxcey, who ripped an RBI single to left that gave Team Red a decisive 2-1 lead.
Armed with the lead, Petty fired yet another scoreless frame in the top of the fourth, using strong defensive plays by Burns and Gonzaga transfer Cade McGee to work around a two-single by Pompey.
Looking for a critical insurance run, Red used a leadoff double by Woodcox and an RBI base knock from Burns to drive home the third and final run of the game.
In the fifth, Team Red turned to freshman Parker Hutyra, who answered with 2.1 scoreless innings aided by the clutch catch by Woodcox.
After placing runners at first and second for Bazzell in the sixth, Team Black tried a furious comeback in the seventh and final inning, using a single from Travis Sanders and a walk by Garrett Schroeder to mount a mini rally with one out.
Looking to nail down the win, Red turned to senior Josh Sanders who coaxed a lazy groundout and a flyout to right to nail down the 3-1 win.
UP NEXT:
Team Red will turn to another sophomore, as Taber Fast will toe the rubber looking to close out the series for his Red side. Fast will be opposed by junior Trendan Parrish. First pitch from 'The Rip' is set for 3 p.m. on Tuesday afternoon.
Copyright 2023 KCBD. All rights reserved.