Red Raiders take 14-point win over Spartans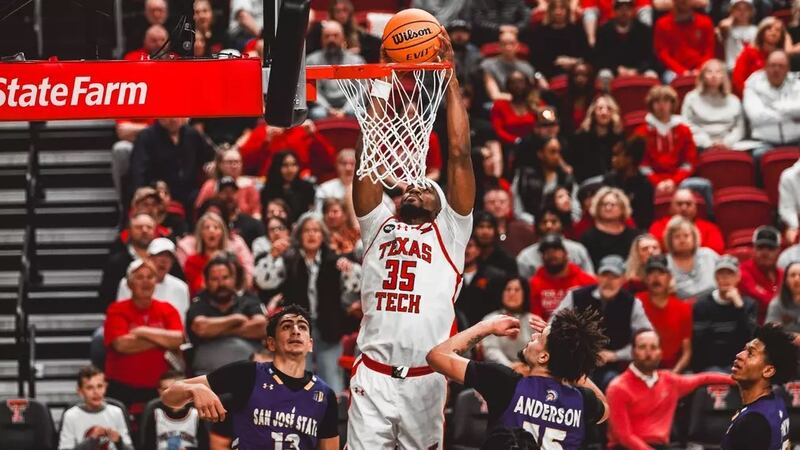 Published: Nov. 12, 2023 at 5:57 PM CST
LUBBOCK, Texas (NEWS RELEASE) – Texas Tech earned a 56-42 win over San Jose State after closing out the game on an 18-2 run over the final seven minutes on Sunday at United Supermarkets Arena. Devan Cambridge led the Red Raiders with 15 points, Joe Toussaint added 10 points and Pop Isaacs led the team with five assists and a career-high seven rebounds.
The Red Raiders (2-0) weren't flawless in the game, shooting 39.0 percent from the field and going 3-for-16 (18.8%) on 3-pointers, but overcame it by forcing 16 turnovers and limiting the Spartans (2-1) to only 34.0% shooting and 4-for-25 from beyond the arc. Tech turned a 22-21 halftime lead into a 14-point victory and is now 2-0 to start a year for the eighth straight season.
"San Jose State came in here I thought with a great plan," Tech coach Grant McCasland said. "They've got an experienced point guard. Coach (Tim) Miles does a tremendous job in preparation. They make you defend constantly through physicality and a lot of different actions. We felt like if we could keep pushing it on them, even though it didn't benefit early, it finally did break open late."
Tech, which was playing in its only Sunday game in the regular-season, will now conclude its three-game homestand to start the season against Texas A&M-Corpus Christi at 7 p.m. on Thursday at the USA. The Islanders are currently 1-1 after an 82-50 loss at No. 7 Houston on Saturday and will play Dallas Christian on Monday before traveling to Lubbock.
Cambridge scored nine of his 15 points in the second half and also had five rebounds and a blocked shot from the starting lineup. He was limited to just two points in the season-opening win on Wednesday against Commerce, but responded by going 7-for-12 from the field for his 41st double-figure scoring performance of his career.
"Our mindset was getting to the rim and getting more aggressive downhill," said Cambridge, who now has 916 career points. "If you play together, you always come out on top. Play hard, play together, and that's what we started doing. You know it all clicked. My teammates found me, you know, just cutting to the goal and they made it a lot easier than me trying to get my own buckets. So just lay ups and playing hard."
Toussaint finished with 10 points for the second straight game and also had three rebounds and an assist. Tech started the game 0-for-12 on 3-pointers before Toussaint made the first to give the Red Raiders a 38-37 lead with 7:33 remaining in the game. He would follow with a layup and free throw to give Tech a 41-40 lead and start the 18-2 run that closed out the game. Toussaint was 4-for-11 from the field but stayed within the game to have eight down the stretch to help the team win.
"We got good shots," Toussaint said. "We got shots within the offense. It just wasn't falling today. I mean, in basketball you know that happens. We just stayed connected on the defensive end. I guess that's why we had the outcome we had. I'm happy we won but obviously, we've got to improve."
Warren Washington scored Tech's first six points in the game and finished with eight points and five rebounds, while Darrion Williams had nine points, six rebounds, two steals, and two assists. Darrion Williams and Warren Washington were both 4-for-8 from the field. Isaacs, who led Tech with 19 points in the season-opener, had eight points to go along with his rebounding and assists. He made one 3-pointer, late in the game, to get Tech up to the final score of 56. Lamar Washington led the reserves with four points and four rebounds, while Chance McMillian had six rebounds for the second straight game. He also had two points and two steals.
Tech took a 22-21 lead into halftime with Warren Washington and Cambridge leading the team with six points each and despite shooting just 10-for-30 from the field and being 0-of-8 on 3-pointers. Isaacs was leading Tech with four rebounds, three assists, and two steals but had only two points at the break. Lamar Washington had four points and three rebounds. Tech had a 20-14 scoring advantage in the paint and six points off seven Spartan turnovers through 20 minutes. San Jose State was only 1-for-13 (7.7 percent) on 3-pointers in the first half.
San Jose State, which came into the game scoring 94.5 points per game through two games, led 37-35 with eight minutes to play before Toussaint hit that first 3-pointer a minute later.
"I thought our guys' grit, rebounding, and guarding just through a lack of offense, to be honest, shows that our team's really mature and I thought it was a gritty win," McCasland said. "Give them credit though because I thought they came in here with a great plan and made it hard on us. Our guys showed some composure and found a way to separate late in the game."
Copyright 2023 KCBD. All rights reserved.