Texas Tech defeats No. 19 Kansas on the road 16-13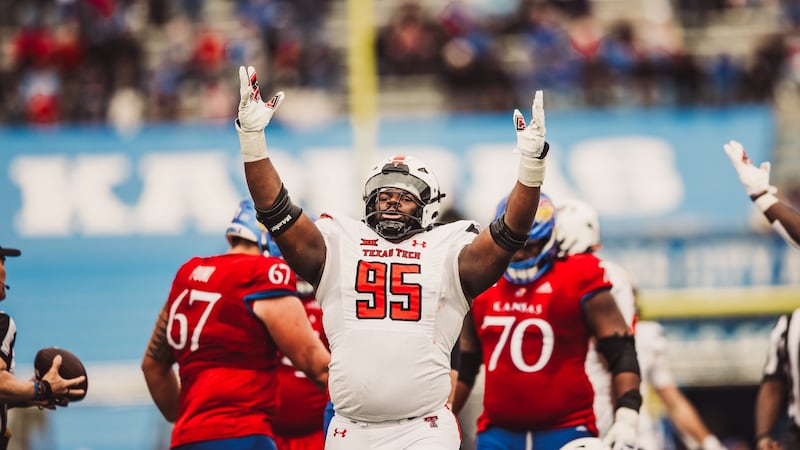 Published: Nov. 11, 2023 at 2:40 PM CST
LUBBOCK, Texas (KCBD) - Texas Tech defeated No. 19 Kansas 16 to 13 on the road Saturday to become 5-5 overall.
The Red Raiders are now one win away from becoming eligible for a bowl game.
Tahj Brooks was explosive on offense. Brooks ran it 5 yards for a touchdown In the first quarter, putting Tech on the board. Gino Garcia's 32-yard field was good to put Tech ahead 10-0 going into the second quarter. Tech's defensive held the Jayhawks from scoring in the second quarter on 4th and goal. Defense on both sides of the ball held both teams from scoring in the 2nd quarter.
Garcia added on to Tech's score with a 31-yard field goal extending Tech's lead to 13-0 in the third quarter. Kansas did not score until the 4th quarter, when Devin Neal ran it 60 yards to the end zone for a Jayhawk touchdown. Tech led by 6 with 12:12 remaining in the game.
Tech did not score on their next possession, giving the ball back to Kansas. The Jayhawks took it to 3rd and goal and did not cross the end zone, so they went for the 24-yard field goal, Tech still leading 13-10. Tech held Kansas from scoring on their next drive, forcing Keller to kick a 22-yard field goal to tie it at 13 with 25 seconds left in the game.
Morton connected to Jerand Bradley to get Gino Garcia within 30 yards for a field goal. Garcia's field goal was good to put Tech back ahead, leading 16-13 with 3 seconds left.
Texas Tech won 16-13 over #19 Kansas. Tech will host UCF next Saturday. Tech needs 1 more win to become bowl game eligible.
Texas Tech Rushing
Tahj Brooks: 33 CAR | 133 YDS
Cam'Ron Valdez: 4 CAR | 14 YDS
Texas Tech Receiving:
Jerand Bradley: 4 REC | 91 YDS
Coy Eakin: 3 REC | 29 YDS
Myles Price: 5 REC | 29 YDS
Copyright 2023 KCBD. All rights reserved.