Texas Tech announces 2024 softball schedule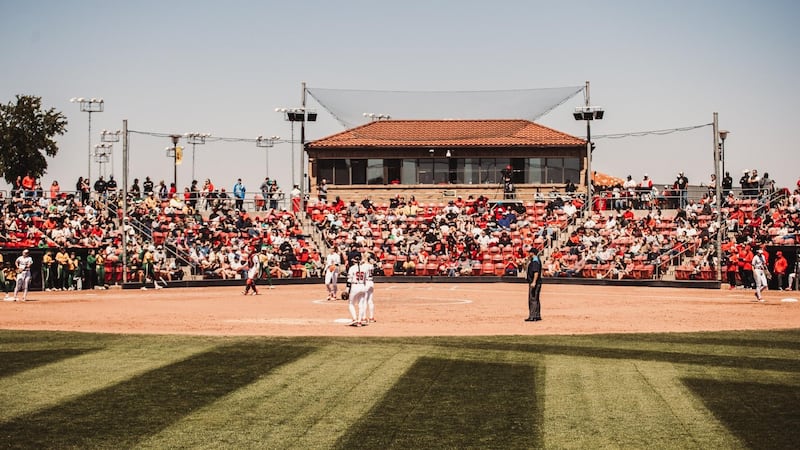 Published: Nov. 9, 2023 at 2:15 PM CST
LUBBOCK, Texas (NEWS RELEASE) - The Texas Tech softball program in conjunction with the Big 12 Conference announced the complete 2024 schedule which includes home series against Oklahoma, UCF, Kansas, and the regular-season finale against Texas at Rocky Johnson Field.
Game times and additional information will be announced at a later date. Softball tickets can be purchased in advance of each home game by going to //www.texastech.com/tickets and logging into your Texas Tech Athletics Ticket Office account, or by calling the ticket office at 806-742-TECH. Tickets can also be purchased on gameday at the entrance of Rocky Johnson Field starting one hour prior to first pitch.
The Red Raiders will open their season at the Florida State Tournament from February 9-11 in Tallahassee, Florida and will also play tournaments at Texas State (Feb. 16-18), and North Texas (Feb. 23-25). Texas Tech hosts its annual Jeannine McHaney Memorial Classic from March 1-3 at Rocky Johnson Field.
The Big 12 Conference has revealed the 2024 Big 12 softball schedule on Thursday afternoon and announced that teams will play each league opponent in a three-game series for a total of 27 Conference games for each school. This year marks the debut of BYU, UCF, and Houston in Big 12 softball. The Knights made the NCAA Tournament in 2023, while BYU won 35 games and competed in the National Invitational Softball Championship.
Big 12 play commences on March 7 and will conclude May 5. Series will be held Friday through Sunday except for those involving BYU and Easter Weekend (March 31) which will be played Thursday-Saturday.
Texas Tech opens Big 12 play at BYU from March 7-9 before hosting the Sooners from March 15-17 in Lubbock. The final three weeks of conference play sees the Red Raiders with road trips to Oklahoma State (April 19-21) and to Houston (April 26-28) before hosting the Longhorns during the final weekend of play from May 3-5.
The Phillips 66 Big 12 Softball Championship returns to Oklahoma City's USA Softball Hall of Fame Stadium at OGE Energy Field, the home of the Women's College World Series, from May 8-11. All 10 teams will compete in the single-elimination format with the top six finishing regular season teams receiving a first-round bye.
The Big 12 was the top-ranked RPI league in 2023 and was the only conference to have 57% of its teams finish with 40 or more wins. The league finished with a 64-26-1 (.709) record against other Power Five leagues last season and had a winning record against each of the other four conferences.
Oklahoma captured its third straight national title in 2023, becoming one of just two schools ever to three-peat. The Sooners enter 2024 on an NCAA Record 53-game winning streak. Oklahoma State advanced to its fourth-consecutive WCWS last season and finished with 47 victories, the sixth-most in program history.
Copyright 2023 KCBD. All rights reserved.