Texas Tech Baseball announces remainder of 2024 Schedule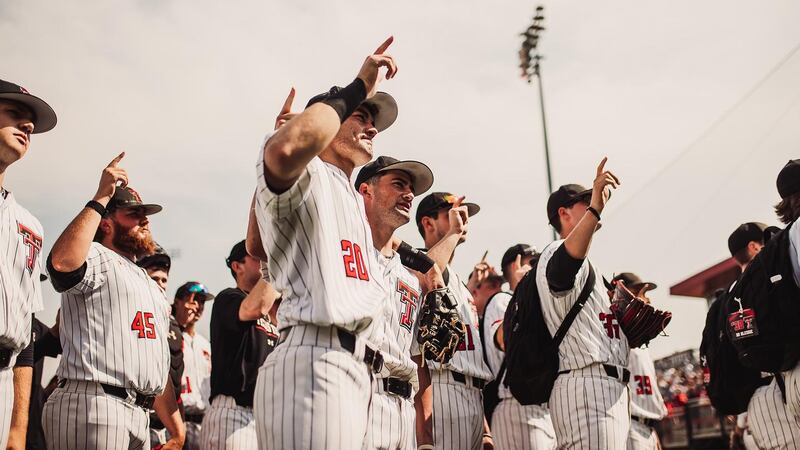 Published: Nov. 2, 2023 at 2:12 PM CDT
LUBBOCK, Texas (News Release) -The Texas Tech baseball program in conjunction with the Big 12 Conference announced the complete 2024 baseball schedule on Thursday afternoon.
Highlighted by 29 games at Dan Law Field at Rip Griffin Park, the 2024 schedule features 22 contests against teams that made the NCAA Tournament a season ago including a three-game home series with Super Regional Participant Texas and two midweek contests with College World Series participant Stanford.
The Red Raiders open the 2024 season with a trip to the Shriners Children's College Classic where marquee contests against Tennessee (Feb. 16), Nebraska (Feb. 17) and Oregon (Feb. 18) will await coach Tim Tadlock's bunch.
After taking an off day on Monday, Tech will stay in Arlington for a pair of neutral site contests at Globe Life Field against UTA (Feb. 20) and Oregon State (Feb. 21).
The 2024 home opener is set for Friday, Feb. 23 at 2 p.m. against Texas Southern, as the Red Raiders will play host to the Tigers for a three-games series (Feb. 23-26) that weekend.
Tech continues the opening six-game homestand the next weekend, as Gardner Webb will make a visit to Dan Law Field at Rip Griffin Park for three games, Mar. 1-3.
After a midweek contest at New Mexico (Mar. 5), Tech returns home to 'The Rip' for five straight games including the Big 12 Conference opening series against Texas (Mar. 8-10), and a pair of midweek contests against New Mexico State (Mar. 12-13).
Following a quick weekend series at Baylor (Mar. 15-17), Tech will again return home to the friendly confines of Rip Griffin Park for five games beginning with a Tuesday night (Mar. 19) date against Abilene Christian.
Just two days later, Tech will clash with one of the newest members of the Big 12, as BYU is scheduled to make its first trip to Lubbock on Mar. 22-24.
The following Tuesday (Mar. 26) also features a midweek home game, as Stephen F. Austin comes for a 6:30 p.m. contest.
Tech will hit the road for another matchup with a new Big 12 opponent, when they head to Orlando for three games on Easter weekend (Mar. 28-30) against UCF.
April comes in hot for Tadlock and the Red Raiders, as Stanford makes its first-ever regular season trip to Lubbock for a two-game midweek series (Apr. 1-2).
Following the two-game series with the Cardinal, Tech will welcome another new Big 12 foe, as the Cougars of Houston will trek to Lubbock for a weekend series (Apr. 5-7).
Tech's longest road trip of the season (six games) arrives on Apr. 9 when a short trip across I-20 takes the Red Raiders to Abilene Christian for a 6:05 p.m. midweek contest.
The Red Raiders will stay on the road that weekend, heading to 2023 CWS participant TCU for a pivotal three-game set (Apr. 12-14) in Fort Worth.
Another stiff midweek test awaits the Red Raiders that next week when they make the trip to former Southwest Conference foe Arkansas for a pair of games at Baum-Walker Stadium.
A four-game homestand begins that next weekend (Apr. 19-21) for the Red Raiders, as West Virginia will make the long trip to Lubbock for three games before Tech plays host to New Mexico for a Tuesday afternoon game (Apr. 23) against the Lobos.
The final weekend in April takes Tech to Lawrence for a three-game series at Kansas (Apr. 26-28), before Tech returns home for the final homestand of the season.
That homestand features a Tuesday night game against UTRGV as well as the final Big 12 home series against Oklahoma (May 3-5).
Following a five-day break to focus on final exams, Tech baseball closes Big 12 play with another key three-game set at Oklahoma State (May 10-12).
The regular season's final weekend takes the Red Raiders west to a future Big 12 member, as Tech will head to Tempe for a pair of games with Arizona State and one game with UNLV. The Red Raiders and Sun Devils will meet on Thursday night (May 16) before Tech will play a pair against UNLV (3 p.m.) and ASU (8:30 p.m.) on Friday (May 17).
Held once again at Globe Life Field, the 2024 Big 12 Championship will run from May 21-25, as the top-10 finishers in the Big 12 standings will convene in Arlington for the event.
The 2024 NCAA Baseball Championships begin with regional play from May 31-Jun. 3 with the 16 regional site winners meeting in the Super Regionals the following weekend (Jun. 7-10).
The eight best-of-three winners from supers will all head to historic Omaha for the 76th edition of the Men's College World Series held June 14-24 at TD Amertrade Park.
After winning 41 games and advancing to a seventh straight regional final, coach Tadlock will boast a dynamic roster in 2024, highlighted by the return of All-Americans Gavin Kash and Kevin Bazell as well as the return of veteran right-handers Kyle Robinson and Zane Petty.
Season ticket renewals for the 2024 Red Raiders' baseball season are currently being accepted. The renewal deadline is Thursday, Nov. 30.
Season tickets can be renewed by going to www.texastech.com/renew and logging into your Texas Tech Athletics Ticket Office account, or by calling the ticket office at 806-742-TECH
Copyright 2023 KCBD. All rights reserved.