Texas Rangers sideline reporter Emily Jones recaps journey from Texas Tech to World Series win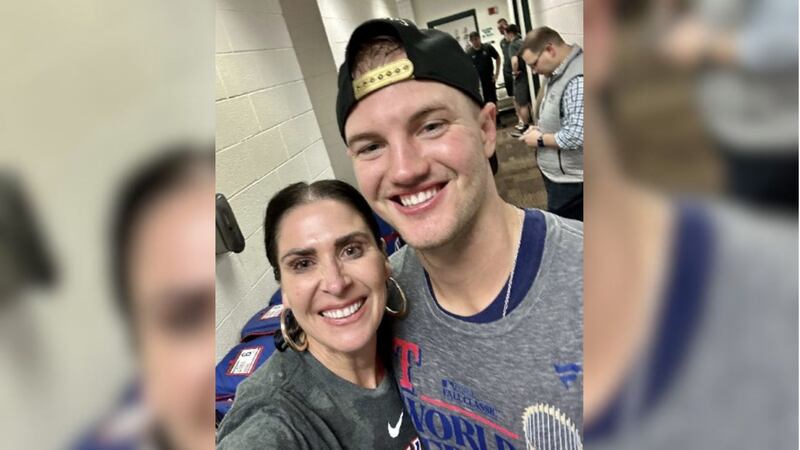 Published: Nov. 2, 2023 at 4:22 PM CDT
LUBBOCK, Texas (KCBD) - Josh Jung wasn't the only Red Raider celebrating a World Series win on Wednesday night. In fact, this Red Raider has seen the diamond for multiple seasons. Her name - you might've heard before - is Emily Jones.
Jones graduated from Texas Tech in 1998 and quickly began her career. After some time as Sports Director at KCBD, Jones moved to Dallas and began her coverage of DFW teams. After a break in 2013, Jones returned to the sports journalism world as the official sideline reporter for the Texas Rangers.
Jones experienced the heartbreak of back-to-back losses in the World Series in 2010 and 2011 for the Rangers. Over a decade later, Jones said finally experiencing the first World Series title win in Rangers history really hasn't set in quite yet.
"Having experienced the disappointment's of 2010 and 2011," Jones said, "to see this thing through to the finish was a pretty special moment for me personally, for our fanbase as a whole. It's something I'm not quite sure I've fully digested at this point."
However the journey to the end was in question for the Rangers towards quite literally the final game of the regular season.
Jones said she saw something click for the Rangers once the American League West Division Title got away from them right before the playoffs, changing the road for the Rangers into a longer one.
"Honestly, as crazy as it sounds, I feel like when we lost the division in Seattle on the final day of the regular season," Jones said. "We had played so well the first half, injuries up and down, next man up mentality. You saw all those things in the regular season and then when it came down to crunch time, we weren't able to close things out in that division race. Our playoff fate was even in doubt with a week left in the regular season. I think once that trigger hit that we didn't win the division and that they were going to have to go about this the hard way – I think that's when you saw this team really, really come together and bond in a way that they might not have otherwise if they would've taken the easy road."
The Rangers ended up embracing the travel and turned into road warriors, Jones said. She mentioned an impressive playoff run by the team who never lost a game away from Globe Life Field in Arlington once through the four series they played and she was there for every one of them.
Jones said the 11-win road streak is something that has never been done before not only in the MLB but in the NBA and NHL or any sport that is formatted in a best-of-seven series.
"That's the last road game we lost was in Seattle – game 162," Jones said. "Then you rattle off a World Series title winning 11 straight on the road … It's so impressive. It speaks to the leadership they have in Bruce Bochy, the veteran leadership in our clubhouse really stepped up and made sure – once the division was lost - they still had everything in front of them it just wasn't going to be easy."
Her journey from Texas Tech to celebrating a World Series title was full of tests with highs and lows throughout. Jones said she has met and learned from a lot of people in the industry and coaches - including Bob Knight, who passed away on Wednesday, and Mike Leach, who died last December.
"I appreciated him the time that I was in my career," Jones said. "He taught me a lot. He taught me to be tough. I'm grateful for the lessons that I learned from him. I'm grateful for the friendship he showed me long after I left Lubbock. I'm grateful for the impact he had on the university I love."
Jones continued:
"It makes me sad to see him go especially as close to the time we lost Mike Leach," Jones said. "Those were two of the biggest influences in my professional career that I can think of in that time that I've had in Lubbock."
Next up for Jones, besides rest, is preparing for the celebration parade in Arlington on Friday afternoon. She said she plans to enjoy the festivities with her family, who was along for the ride all of these years.
Someone asked Jones about reflecting on her professional career leading up to the first pennant in Rangers history. This was her answer:
"This isn't the icing on the cake," Jones said. "This is the cherry on top of the whipped cream, on top of the icing, on top of the cake."
Watch the full interview below:
Copyright 2023 KCBD. All rights reserved.