Texas Tech beats TCU 35-28 at home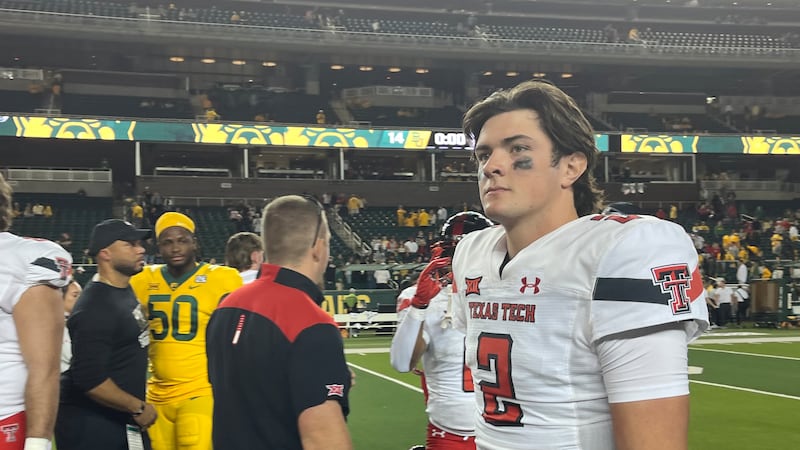 Published: Oct. 30, 2023 at 3:51 PM CDT
|
Updated: Nov. 2, 2023 at 7:23 PM CDT
LIVE UPDATES: Follow pchristy11 on Twitter for live score updates during the game!
LUBBOCK, Texas (KCBD) - The Texas Tech Red Raiders and Texas Christian University Horned Frogs are set to square off in Lubbock at 6 p.m. on Thursday as both return to the gridiron following a bye week.
According to a Tech Athletics news release, fans are encouraged to wear black to the game. The traditional blackout game signifies an upcoming big contest and a sellout. According to the release, this game is expected to be a near-capacity crowd.
The Red Raiders (3-5, 2-3 Big 12) are looking to put an end to the Horned Frogs' (4-4, 2-3 Big 12) streak of four-wins against the scarlet and black. The last time Tech won against TCU was on, Oct. 11, 2018, a Thursday night in Fort Worth, 17-14. The longest win streak TCU piled up against the Red Raiders is five games set back in 1926 to 1930. A win for the Horned Frogs would tie that record. The winner will also gain control of the Saddle Trophy, which debuted in 1961 until the 1970 season. After decades went by the trophy was reintroduced in 2017.
Currently, TCU and Tech both have a 2-3 Big 12 Conference record, but overall the Horned Frogs are one game ahead with a .500 record of 4-4. Both have seen struggles on the road with TCU losing two away from Fort Worth and Tech sitting at 1-3 away from Jones AT&T Stadium.
Tech coach Joey McGuire lost his first career meeting against TCU last season, which was also Sonny Dykes' first season as coach at TCU. Dykes, the youngest son of former Tech coach Spike Dykes, guided the Horned Frogs to a 13-2 record a season ago leading up to a 65-7 loss to Georgia in the College Football Playoff National Championship game.
The Tech offense is currently eighth in the Big 12 in terms of scoring with an average of 30 pointers per game. TCU is right behind in ninth place in the league with an average of 29.4 points per game. However, TCU's passing offense is second in the conference with around 289.5 passing yards per game and Tech is ranked ninth with a mark of 231.4 passing yards per contest.
Tech, according to the release, is the only FBS school in the nation to have three different starting quarterbacks each of the last two seasons, Overall, McGuire has had four different starting QBs in his 21 career games at Tech.
Tech QB Behren Morton returned to a full practice participant on Sunday - the first time he's been a full participant since West Virginia, McGuire said, which was the game where Shough broke his left fibula. Morton is expected to start against the Horned Frogs. He suffered a sprain to his AC joint in his right shoulder in the same game where Shough was injured.
Freshman QB Jake Strong took over for Morton in the second half against Kansas State and played the full game against BYU.
One highlight to the Tech offense this campaign has been running back Tahj Brooks. He has rushed for 887 yards through eight games. Brooks has rushed for over 100 yards in nine career games. Earlier in the season, Brooks began a four-game streak rushing for over the century mark. The streak was snapped against Kansas State when he ran for 98 yards.
That mark has Brooks ranked eighth all-time in Tech history for games with over 100-rushing yards behind Byron Hanspard (21), James Gray (18), Byron Morris (16), James Hadnot (13), Ricky Williams, Larry Isaac (10) and DeAndre Washington (10). One more 100-yard game for Brooks will move him into the top 10 in Tech history for career rushing yards. He is currently 11th with 2,401 yard - exactly 100 yards behind Baron Batch with 2,501.
Kickoff against TCU is scheduled for 6 p.m. live from Jones AT&T Stadium with the action airing on FS1. Tech announced in a social media post the dismissal of all in-person classes by 2 p.m. Online courses are at the instructors discretion. As well, many parking lots will be cleared by 2:30 p.m. on gameday. According to the post, staff, faculty and students should check their email with specific details about each parking lot.
Copyright 2023 KCBD. All rights reserved.