Social media trend putting Lubbock drivers at risk of car theft
Millions of people have had their cars stolen as a result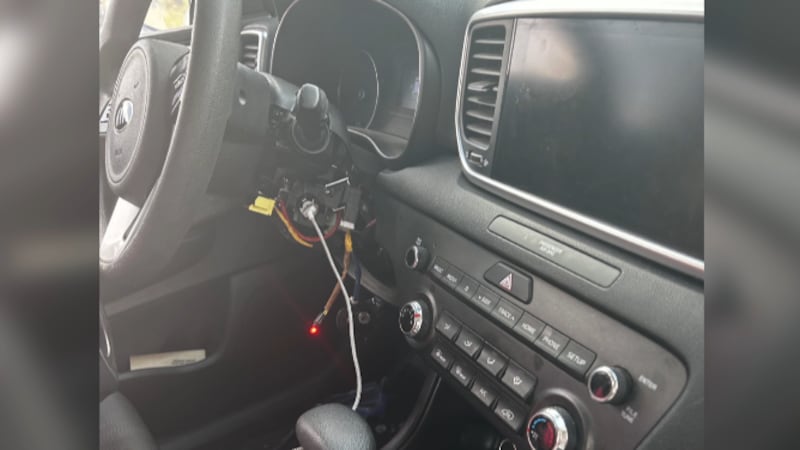 Published: Oct. 26, 2023 at 5:56 PM CDT
LUBBOCK, Texas (KCBD) - Some Lubbock drivers are falling victim to a social media trend that went viral earlier this year. Millions of people have had their cars stolen as a result. We spoke to the Lubbock Police Department about safety measures you can take to not fall victim to this crime.
"Late spring or early summer was when we started to begin to see auto thefts related to those specific makes of those vehicles or perhaps even this internet challenge," Lieutenant Brady Cross with the Lubbock Police Department said.
In February of this year, the National Highway Traffic Safety Administration reported that approximately 3.8 million Hyundais and 4.5 million Kias were targeted as a result of a trending challenge to use a USB drive to steal a car.
Lieutenant Brady Cross said it's almost easy for the criminals.
"What's typical is a USB drive, when it's open, the opening of that fits almost perfectly on what's left on the ignition, and that's enough to slip over the end, turn it, and start the vehicle," Cross said.
Cross said, even though the police department has seen a decline in these thefts since the trend took off, and even arrested a few perpetrators, owners should still take proper precautions.
"Parking in a garage if that's an option; that's the easiest way to prevent it or a gated locked area, if that is not an option, park in a well-lit area with video surveillance."
He also recommends investing in a steering wheel lock that only you have the key to or putting a tracking device in your vehicle. That was also recommended by the two car companies, along with a free anti-theft software upgrade to their vehicles.
Cross said sometimes locking your doors is not enough to prevent theft, so make sure you know your VIN number and license plate and are not leaving valuables inside.
"Having the identifying information for your vehicle helps us to enter it as stolen and ultimately to track it down, find it and return it."
If your car is stolen, immediately make a report to the Lubbock Police Department. If you see the crime happen, call 911, but if you stepped outside and your car is gone, call the non-emergency line: 806-775-2865 or file a report online here.
Copyright 2023 KCBD. All rights reserved.