Noon Notebook: OneVoice hosts "Experience Freedom 2023″
Published: Oct. 23, 2023 at 1:56 PM CDT
LUBBOCK, Texas (PRESS RELEASE) - One Voice, a therapeutic outpatient and residential program, for survivors of sex trafficking, is thrilled to announce the expansion of its flagship fundraising event: Experience Freedom 2023.
Previously recognized as the Art of Freedom, Experience Freedom endeavors to immerse its guests in a series of transformative experiences that paint a vivid picture of both the challenges and victories young survivors face. Attendees will engage in interactive and therapeutic activities, mirroring those offered to the survivors during their healing at One Voice. The essence of the evening revolves around fun, engagement, and wholeheartedly supporting survivors in their unique paths to healing.
One Voice's hope and sole purpose is to provide a safe Haven for survivors of sex trafficking, ages 12-18 and 18-25, to begin their unique Journey of healing. We are passionate about seeing the individual in front of us as we, listen to their voice, and provide an individual pathway of healing through trauma-informed wrap-around care for survivors to break the cycle of trafficking and to remain out of the life.
One Voice is overwhelmed with the support from the amazing Lubbock community. Before ticket sales for the event could be opened to the grand public, generous sponsors booked every table for this year's event! Experience Freedom sold out for 2023 but we are already looking forward to 2024 and expanding the event for more guests to join.
100% of Experience Freedom's proceeds will benefit the survivors that OneVoice serves. Individuals from the community will come together at Sophia's Place to fight against sex trafficking and in support of the cause to uphold the integrity of human life and freedom.
Experience Freedom
Location: Sophia's Place
Event Date: October 26th, 2023
Doors Open: 6:00-8:00PM
For additional event information, please call Dacia Hamby: 806-429-2192, dhamby@onevoicehome.org
There is a Live Auction happening now. Scan the QR code below to bid and for more information.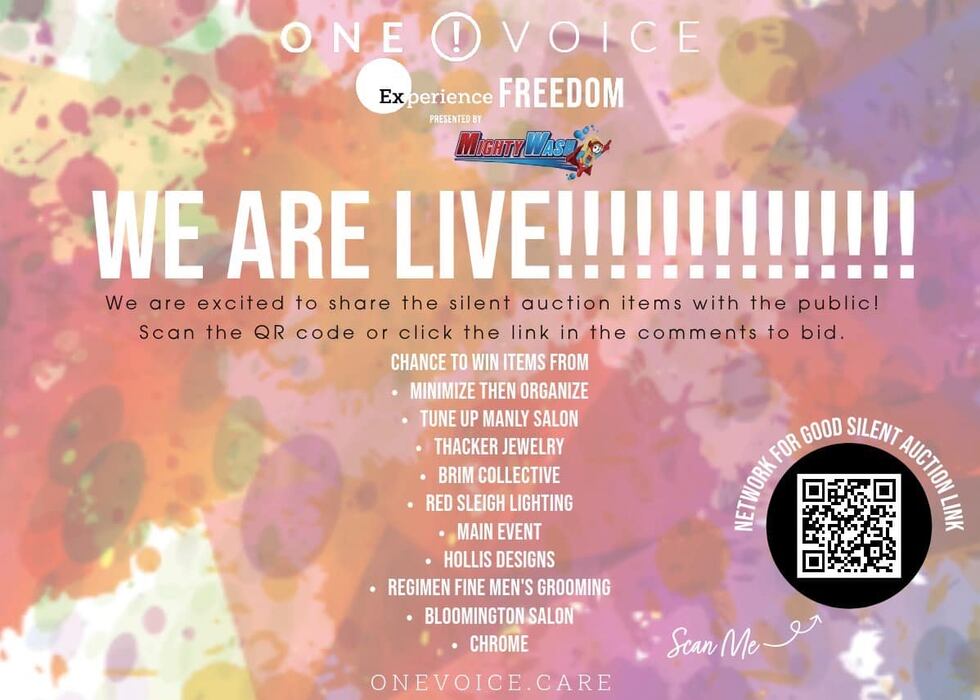 Copyright 2023 KCBD. All rights reserved.