Cotton farmers facing 'worst case scenario' as harvest begins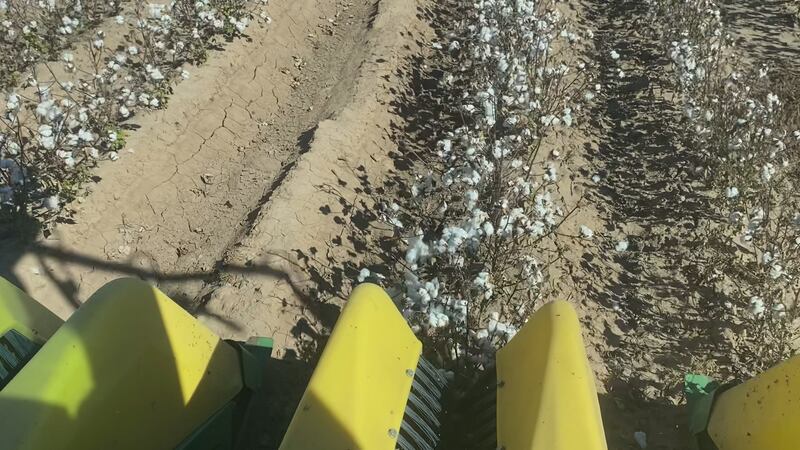 Published: Oct. 22, 2023 at 9:06 PM CDT
|
Updated: Oct. 23, 2023 at 9:01 AM CDT
LUBBOCK, Texas (KCBD) - The cotton harvest has kicked up across the South Plains and farmers are discovering their yields are exactly what they expected, less than they were hoping.
Walt Hagood, a farmer who is this area's State Director of the Texas Farm Bureau, said he is going to harvest about 200 acres out of 2,500 that he planted, and what he is able to harvest isn't much.
"In '21 on this field here we made almost 30 modules, and we've already stripped a good portion of this field and we don't have one made yet," Hagood said.
Farmers were delayed in harvesting this season because the rain around the first of October kept them from preparing.
"That took us out for several days and pushed back our ability to come in and put that final application to get it ready," Hagood said.
Plants also started regrowing from that rainfall, so they had to use more chemicals to get the new leaves to fall off.
"We put a little bit more of the leaf drop on there because we had four inches of rain in-between and now, we've had a lot of regrowth," Hagood said.
Hagood says they must remove those leaves because if they are picked up with the crop by the cotton stripper, it could damage the quality.
"Those leaves get into the sample, and I'm talking about the lint at the gin, and we get discounted for that," Hagood said.
That's more money knocked off an already tough year. Hagood calls this season the worst case scenario. It started out with promising rains during planting, so farmers took the boll by the thorns to do everything they could to make a good crop. Then, the summer heat beamed down on the cotton.
"Every bit of money that we would put into a crop that was good like in '21, we put into this crop because we thought we were going to make a crop, and it just didn't work out that way," Hagood said.
Farmers do have crop insurance to fall back on, but Hagood said that won't be enough to cover losses this time. He says this will affect everyone because gins and oil mills will be dragged deeper into the economic drought.
"All those folks are going to be short, so that infrastructure that we so badly need to keep steady is going to suffer two years in a row," Hagood said.
Hagood said this is something we should all be concerned about because the economy suffers when that infrastructure does.
Copyright 2023 KCBD. All rights reserved.