Texas Tech looks to bounce back on the road against BYU
The Red Raiders make their first-trip ever to Utah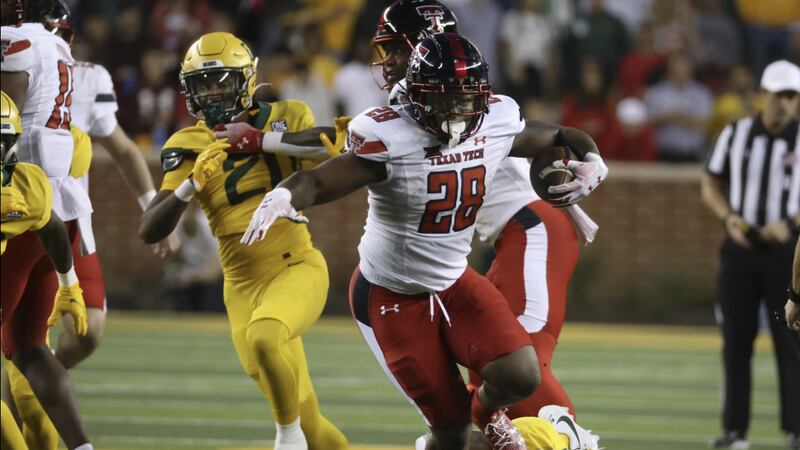 Published: Oct. 20, 2023 at 2:41 PM CDT
|
Updated: Oct. 20, 2023 at 2:45 PM CDT
LUBBOCK, Texas (KCBD) - Texas Tech (3-4, 2-2 Big 12) will make its first-ever trip to Provo, Utah, to take on one of the newest members in the Big 12 Conference, BYU (4-2, 1-2 Big 12). The Red Raiders are coming off of a 38-21 loss to Kansas State at home in Lubbock. The Cougars also go into the game off of a loss. TCU overpowered BYU, 44-11.
Tech coach Joey McGuire is currently sitting at a career record of 11-9 with the Red Raiders. With a scheduled 6 p.m. kickoff time in Provo, this will be Tech's sixth game taking place in the evening. McGuire's night-game record is currently at 4-3. This season alone he is 1-2 with losses at Wyoming then in Lubbock against Oregon.
The Red Raiders and Cougars have met only once in history. Texas Tech hosted BYU during World War II in 1940. The Red Raiders won the first matchup by a slim margin, 21-20. According to Texas Tech Athletics game notes, the Red Raiders completed only two passes during the game, sticking to the run for most of the competition.
This Saturday, Red Raider fans will surely see more than the two completions from 83 years ago, but the run game could likely still be a point of emphasis.
Running back Tahj Brooks is currently fifth in the FBS with 786 rushing yards. He averages a little over 112 rushing yards per game, which is sixth in the nation. He fell short of a fifth-consecutive 100-yard game in the loss to the Wildcats. According to Tech Athletics, Brooks needs 214 yards over the final stretch of games to become only the second 1,000-yard rusher since Tech moved to a spread offense in 2000.
Defensively, Tech allows 232 passing yards on average per game. The rush defense averages out to around 147 yards allowed per game. The total defense ranks 69th in the FBS with an average of 379 yards allowed per contest.
Redshirt-freshman linebacker Ben Roberts has emerged as Tech's leading tackler with 56 after being named a starter in week two against the Ducks. Roberts' 56 tackles ranks second amongst freshmen nationally. He leads all Big 12 freshmen in tackles and tackles per game while ranking fifth overall in the league in total tackles.
BYU is led on offense by quarterback Kedon Slovis. A redshirt-senior, Slovis has played in 44 games while starting in 43 over his five seasons. Slovis previously played at USC during his first three years before transferring to Pittsburgh for his fourth.
In his first year at BYU, Slovis has thrown for 1,392 yards with 10 touchdowns and four interceptions. Wide receiver Chase Roberts has hauled in three of Slovis' touchdowns this season. Roberts is the team's leading receiver with 421 yards on 27 receptions.
The Cougars are led on defense by linebacker Max Tooley with his 44 total tackles so far on the year. He is also credited with one sack and one interception. Alongside Tooley is linebacker AJ Vongphachanh with 39 tackles on the year.
BYU has Jakob Robinson and Eddie Heckard manning the secondary. The two corners have combined for five interceptions on the year for the Cougars.
Tech is hoping for the same outcome it has seen in the teams previous contests against programs from Utah. Tech has previously picked up two wins against Utah and two against Utah State. The last time Tech has played a program from Utah was in 2010 in a win over Weber State, 64.21.
The Red Raiders and Cougars will kickoff at 6 p.m. on Saturday in Provo at LaVell Edwards Stadium. Coverage of the game will air live on FS1.
Copyright 2023 KCBD. All rights reserved.