Blippi: The Wonderful World Tour to Make a Stop at the Buddy Holly Hall in June
Global sensation Blippi to delight audiences in all-new live show Blippi: The Wonderful World Tour on June 20, 2024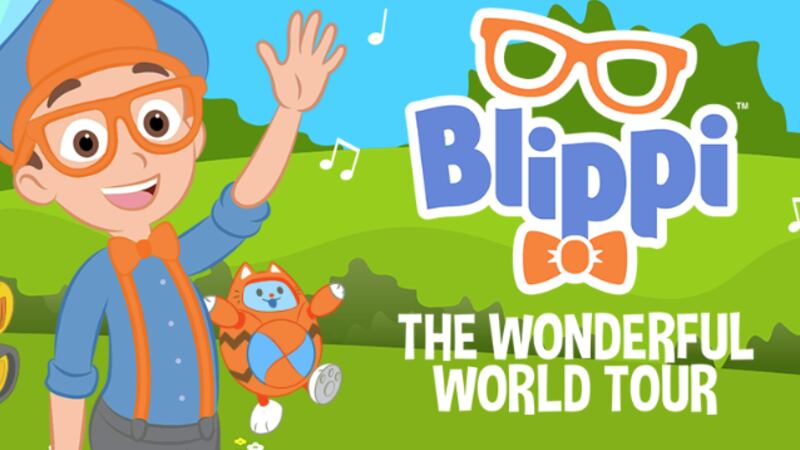 Published: Oct. 17, 2023 at 1:33 PM CDT
LUBBOCK, Texas (NEWS RELEASE) - Round Room Live and Moonbug Entertainment are proud to announce that the hit live show, Blippi: The Wonderful World Tour, will continue to bring the vivacious, energetic, and educational antics of global sensation Blippi to stages across North America with the addition of over 60 new dates next year, with a stop at The Buddy Holly Hall of Performing Arts and Sciences on June 20, 2024,at 6 p.m.
This all-new show kicked off in early 2023, with a successful Spring run in North America that saw more than 165K tickets sold across 90 cities with multiple sold-out performances; the tour then went on to entertain UK audiences through Summer 2023 before returning to North America this Fall. Blippi: The Wonderful World Tour recently announced additional international dates in Johannesburg, Kuwait, and Mexico City for 2023 as well.
Tickets for Blippi: The Wonderful World Tour go on sale on Friday, October 20, 2023, at 10 a.m. (CT) and range in price from $25.50 through $60.50 plus taxes and fees. Tickets can be purchased online at buddyhollyhall.com, by calling ETIX at 1 (800) 514-3849, and in person at the venue box office at 1300 Mac Davis Lane, Lubbock, TX 79401, open Monday through Friday from 12 p.m. to 4 p.m.
Blippi is coming to your city for the ultimate curiosity adventure in Blippi: The Wonderful World Tour! Dance, sing, and learn with Blippi and special guest Meekah as they discover what makes different cities unique and special. Will there be monster trucks, excavators, and garbage trucks galore? You bet! So, get ready to shake those wiggles out and OJ Twist your way through this brand-new musical party.
"We are thrilled to be able to continue performances of Blippi: The Wonderful World Tourin even more cities in 2024," said Stephen Shaw, Founder and Co-President of Round Room Live. "After a successful run in the Spring and now this Fall, across both North America and the UK, we're excited for even more families to share in the joy and wonder of Blippi On Tour and to create lifelong memories together.
"We're so excited to be back in the US after a successful tour visiting friends in the UK, South Africa and the Middle East. It's amazing to see the love fans have for Blippi and Meekah and an honor to witness the joy that this beloved brand brings to families around the world," said Susan Vargo, Head of Experiences at Moonbug Entertainment. "As we extend the North American leg of Blippi: The Wonderful World Tour, we look forward to continuing to introduce our young fans to the magic of singing and dancing along to a live performance while making lasting memories with their families."
Blippi inspires curiosity in preschoolers around the world by creating content and experiences that are relatable, accessible and make learning fun. Blippi has become a worldwide sensation with more than one billion monthly views across platforms including Netflix, HBO Max, Cartoonito, Sky, Amazon and YouTube and millions of fans around the world. The franchise has expanded rapidly since it was acquired by Moonbug Entertainment in 2020. Blippi is available in more than 20 languages, including ASL, and is distributed by more than 30 global broadcast and streaming partners. Blippi's buddies Meekah and Juca have spun off into their own shows and Blippi lives off the screen as well with sold-out live events, popular music tracks, and in-demand toys available at all major retailers.
ForBlippi: The Wonderful World Tour, the charactersBlippi and Meekah will be played by professional stage performers selected specifically for the stage show.
Fans can visit BlippiOnTour.com now for tour dates and ticket information and follow Blippi On Tour social media for exclusive tour content.
FOLLOW BLIPPI ON YOUR
Official Website: www.Blippi.com
Facebook: @BlippiOnTour
Twitter: @BlippiOnTour
Instagram: @BlippiOnTour
TikTok: @BlippiOnTour
FOLLOW BLIPPI
Official Website: www.Blippi.com
YouTube: @Blippi
Facebook: @Blippi
Twitter: @BlippiOfficial
Instagram: @BlippiOfficial
Copyright 2023 KCBD. All rights reserved.