Texas Tech women's tennis takes home doubles title at ITA Regionals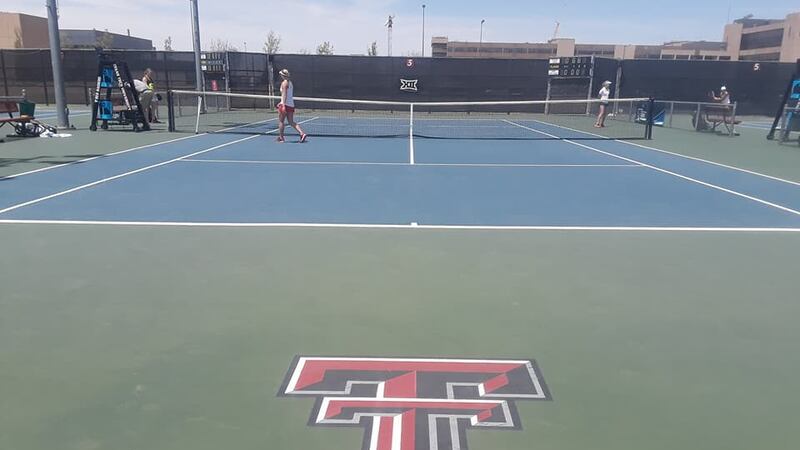 Published: Oct. 16, 2023 at 3:24 PM CDT
WACO, Texas (News Release) - For the first time in eight years, the Texas Tech Lady Raiders saw a doubles team take the title at the ITA Texas Regional tournament as the No. 15 duo of Metka Komac and Avelina Sayfetdinova won the doubles championship on Monday morning.
Komac and Sayfetdinova became the first pairing to win the title at regionals since Lynn Kiro and Alex Valenstein did so on Oct. 26, 2015, and only the second pairing to do so in the program's history. This also marks the first time in back-to-back seasons that a Texas Tech doubles team made the finals as Komac and Cristina Tiglea were the runners-up last season.
The one-seeded Lady Raider tandem got things started in the second round, advancing there on a first-round bye, when they only surrendered one game against Texas A&M-Corpus Christi's Palina Saulevich and Ana Veroux, 8-1. They went on to defeat No. 14-seeded Helena Narmount and Yu-Chin Tsai (TCU), 8-6, before dispatching another Horned Frog tandem in the quarterfinals when they beat 12-seeded Destinee Martins and Isabel Pascual, 8-4.
In the semifinals, Komac/Sayfetdinova posted a straight-set victory against UTSA's Cassie Mcclay and Aleksandra Zlatarova, 6-3, 6-2. Then, held up the trophy after overtaking the No. 2-seeded Texas Longhorn pairing of Tanya Sasnouskaya and Sabina Zeynalova in another straight-set win, 7-5, 6-2. By making it to the finals at regionals, Komac and Sayfetdinova solidified a spot in the doubles main draw of the ITA Fall National Championships in San Diego, Calif. starting on Nov. 1.
Coming into the tournament as the No. 15-seed, both Tiglea and Mariya Polishchuk teamed up and joined Komac and Sayfetdinova as half of the competition in the doubles semifinals. In the first round, Polishchuk and Tiglea overtook Houston's Maria Dzemeshkevich and Laura Slisane, 8-4, before beating Tarleton State's duo of Ximena Morales Araneda and Emma Persson by the same score.
The third round saw the Lady Raider tandem win in a close match against UT-Arlington's Tara Gorinsek and Ana Paula Jimenez, 8-7 (2). In the quarterfinals, the Tech pair beat six-seeded Sierra Berry and Isabella Harvison of Baylor, 8-4. The Lady Raiders would drop their semifinal match against two-seeded Sasnouskaya and Zeynalova (Texas) in three sets, 3-6, 6-4, 4-6.
In the consolation draw, the Lady Raider duo of Yekaterina Dmitrichenko and Andreea Lila made a run as they appeared in the consolation semifinals. They would defeat Rice's Anushka Ashar and Saara Orav with a dominant, 8-2, score. They won their quarterfinal match against Houston's Gabriela Cortes and Elena Trencheva, 8-2, before falling to four-seeded Chie Kezuka and Federica Trevisan (Rice) in the semifinals.
Freshman Jermine Sherif had a solid tournament, picking up the Lady Raiders' only ranked win, and the first of her career, as she made it to the quarterfinals. Posting two wins in the qualifying draw to advance into the main draw, Sherif faced eight-seeded and No. 121-ranked Gianna Pielet of Texas A&M in the first round, winning the match in two sets by a 6-3, 7-6 (3) score. She would go on to defeat both Lyubov Kostenko (Baylor), 6-4, 6-2, and Olivia Malm (North Texas), 6-3, 6-2, to become one of two Lady Raiders in the quarterfinals.
Sayfetdinova, who is ranked No. 112 and came into the tournament as the six seed, also made a quarterfinals appearance in singles. She won all three of her matches leading up to that in straight-sets, taking the first-round contest against Rice's Ashar, 6-1, 6-1. She followed that up with a victory over TCU's Helena Narmount, 6-0, 6-4, and another win against UTSA's Fatima Gutierrez, 6-3, 6-3.
Joining Sayfetdinova and Sherif in the Round of 16 were three other Lady Raiders. Eleven-seeded Tiglea picked up two wins against Sam Houston's India Fenieys, 6-1, 6-2 and Gorinsek (UTA), 7-5, 6-4. Lila also won two matches after she beat UTSA's Aleksandra Zlatarova, 6-0, 6-4, and 14-seeded Tsai of TCU, 7-5, 4-6, 6-4. Polishchuk, who is ranked No. 113 and was the seven seed, rounded out the Round of 16 appearances with victories over Rice's Darya Schwartzman, 7-6 (2), 6-3, and SMU's Lana Mavor, 6-4, 6-3.
Overall, the Lady Raiders went 12-4 in doubles and 17-10 in singles, tallying a whopping 29 total victories at the ITA Regional tournament.
Up next, Texas Tech will send Sayfetdinova and Komac to ITA Fall Nationals in San Diego on Nov. 1-5, while the rest of the team competes in the Texas A&M Fall Invitational on Nov. 3-5.
Copyright 2023 KCBD. All rights reserved.