Ranchers struggling to rebuild herds after summer heat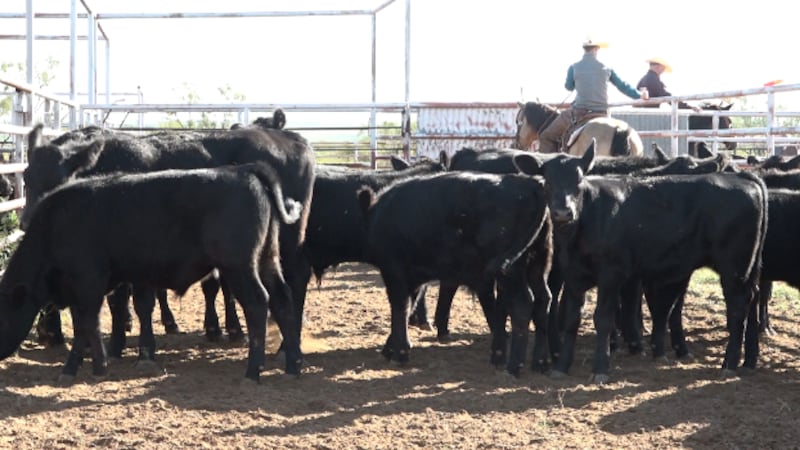 Published: Oct. 15, 2023 at 7:44 PM CDT
|
Updated: Oct. 16, 2023 at 9:27 AM CDT
LUBBOCK, Texas (KCBD) - A local rancher is still feeling the effects from all the extreme temperatures and very little rain we got this summer on the South Plains.
In 2022, ranchers had to liquidate their herds because of the drought. Then, prices became favorable to rebuild those herds, but it hasn't been as easy as they hoped.
Wesley Welch who manages Spade Ranches said the hot and dry weather can affect the reproductive system of a cow, making it hard to get the herd size back.
"Typically we'll have 10% of the cows that aren't pregnant; today it was more like 40%," Welch said.
At Spade Ranches, they keep some heifers out of their calf crop every year to keep the herd size up. This year, it didn't bring them much luck.
"So, it's a challenge to rebuild when your cattle don't get pregnant, and they won't have babies," Welch said. "I think we're seeing that as an industry wide or all around the nation."
Welch said that means at this rate it will take a while to get our nation's herd size back to normal.
"Rebuilding the cow herd, whether it's Spade Ranches or as an industry, it's just going to take some time," Welch said.
Welch says the cattle he is selling are smaller. So, even though cattle prices have been at an all-time high, it's not as much as ranchers would have hoped for.
Since June, ranchers have sold cattle in the $1.80 area and up. That price is having an effect on consumers.
"Go out to a restaurant, go to the meat counter at the grocery store and it's record highs," Welch said.
Welch tells KCBD cattle prices have been dropping lately, but only slightly.
"It's not catastrophic. We're still at historical levels," Welch said. "So, I think it's just a slight correction."
Welch said if Mother Nature doesn't work with ranchers soon, those prices will continue to be high.
"If our cow herd dwindles, our supply is way down, so we'll see prices increase," Welch said.
The good news is, the South Plains has received some rainfall recently. Welch said that has made him comfortable about getting through the winter, and he is hoping for a normal Spring in 2024.
Copyright 2023 KCBD. All rights reserved.