Texas Tech secures double-digit personal best times Friday
Tech now turns its attention to the Big 12 Championship on Oct. 28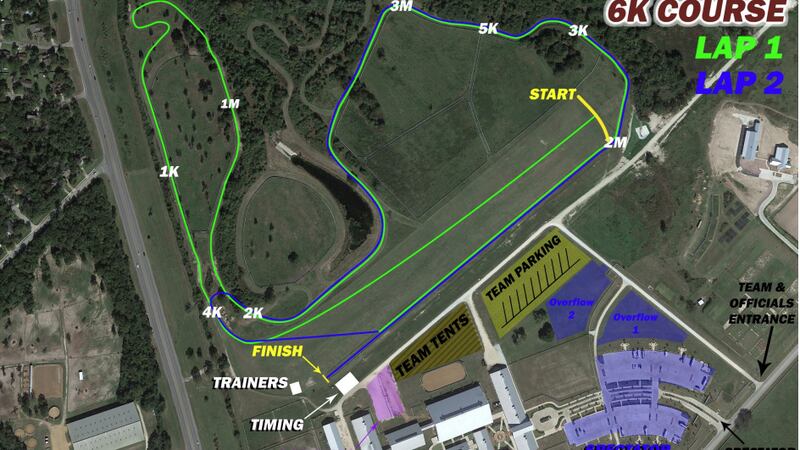 Published: Oct. 13, 2023 at 1:16 PM CDT
COLLEGE STATION, Texas (NEWS RELEASE) - The Texas Tech cross country team recorded 18 total personal best times highlighted by Juliet Cherubet winning the women's 6k race at the Arturo Barrios Invite Friday morning at the Watts Cross Country Course.
Cherubet claims her second-straight meet win after winning the Gans Creek Classic two weeks ago. Friday morning, Cherubet clocked in a time of 19:20.70*, claiming victory by 14 seconds. In her win at the Gans Creek Classic, also a 6k run, Cherubet crossed the end line at 20:16.40.
Anastasia Chepkorir was not too far behind Cherubet coming in fourth place with a time of 19:45.90*. Hannah Spears (21:46.10*) finished 167th, Taylor Limbaugh (21:56.60*), placed 186th and Melanie Jacobs (22:05.10*) rounded out the scoring placing 201st.
On the men's side, Vincent Koech (23:21.30*) and Gideon Kiplimo (23:22.90*) led the way recording a 7-8 finish for Tech. Isaac Hernandez (24:07.40*) etched his spot in the top-50 coming in 41st as Kirk Zuber (24:46.70*) and Daniel Mendez (24:51.60*) finished 118th and 128th, respectively, to cap off the scoring.
Notables
Jenna Carter – 22:27.50*
Sarah Zdansky – 23:00.80*
Emeline Mangham – 23:23.10*
Valeria Banuelos – 24:12.4*
Trey Leathers – 25:08.40*
Samuel Ashley – 25:10.10*
Jaden Tumale – 25:19.30*
Demitrius Guererro – 25:53.90*
*- denotes new personal best time
Up Next
Tech will begin preparing for the Big 12 Cross Country Championships taking place in Ames, Iowa on Friday, Oct. 28.
Copyright 2023 KCBD. All rights reserved.