Courtwright's equalizer secures point at UCF
The freshman scored fifth goal of the season, as No. 6 Tech remained unbeaten.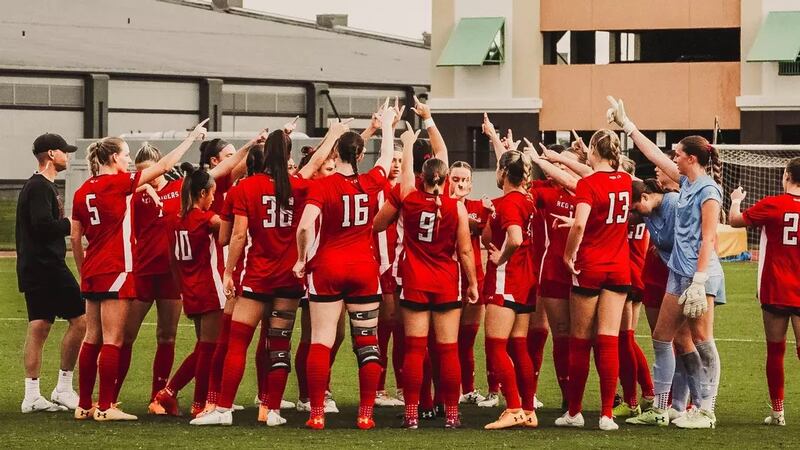 Published: Oct. 12, 2023 at 11:35 PM CDT
ORLANDO, FL (NEWS RELEASE) – Propelled by a 68th minute equalizer from freshman Sam Courtwright, the No. 6 Texas Tech women's soccer program earned another key Big 12 point, playing the UCF Knights to a 1-1 draw in a steamy and humid Orlando on Thursday night.
Facing a one-goal deficit for the second time all season, and battling real feels that exceeded 90 degrees for the 6 p.m. local kick, Texas Tech (12-0-4, 6-0-2 Big 12) dug deep, and used a strong run from Elise Anderson to set up the programs 40th goal of the season.
Anderson ripped a perfect service that glanced off Ashleigh Williams' head and fell right to Courtwright. As she has all year, the freshman was up to the task, ripping a low bouncer into the left-hand corner of the net.
The assists were Tech's 52nd and 53rd of the season.
Courtwright has now scored three times in her last four matches and has 16 points on the season.
The goal came at the perfect time for Tech, as the Red Raiders faced a 1-0 deficit after UCF (8-5-1, 4-3-1 Big 12) buried a corner kick in the 55th minute.
As she has all season, Madison White came up clutch, making five massive saves to preserve the Red Raiders perfect record and ensure a key point.
No save was bigger for White on the night, than an 86th minute stop on a UCF shot from point-blank distance.
For the match, Tech was outshot 14-12, as the two teams combined for 27 total fouls in the physical contest.
With the point and based on the various results around the Big 12 Conference on Thursday, Tech closes the night atop the Big 12 standings with just two matches remaining in the regular season.
The Red Raiders have 20 points, two points ahead of No. 8 BYU who sits in second after a 3-0 road win at OSU Thursday.
Entering the night in third place, BYU leapfrogged TCU, who played Houston to a 2-2 draw in Forth Worth on Thursday.
HC TOM STONE:
"Tonight wasn't our best performance as anyone who has followed us all year will know. At the same time the conditions tonight were really tough. And then, that was probably one of UCFs best games of the year. You have to give them credit. They fought us tooth-and-nail. They were up for it and were into every challenge. They tackled well, headed well and fouled when they needed to slow down the game. Tactically they were very wise. They played really hard, so they deserve a lot of credit for this result. On the other hand, we had a chance in the first two minutes, and we hit the post. Those chances come around last often toward the end of the season. Both teams played pretty good defense tonight. If one of those chances, go in we get out of here with three points. But it didn't. When they scored we were faced with, 'okay we've missed some chances, haven't played our best and now we're down on the road.' That's what I like about this team. We really responded extremely well. We kept our wits about us and got after them. Sam's goal was fantastic. And for the second time in three games, we've come back and responded with a goal to make the game even. We're not happy with the one point for sure. I know the girls aren't happy, but the season moves on with two tough games to go."
UP NEXT:
The Red Raiders return home for a massive Sunday afternoon date with the Cowgirls of Oklahoma State. First-kick for the senior day matchup is set for 1 p.m.
Copyright 2023 KCBD. All rights reserved.