14 arrested in Lubbock prostitution sting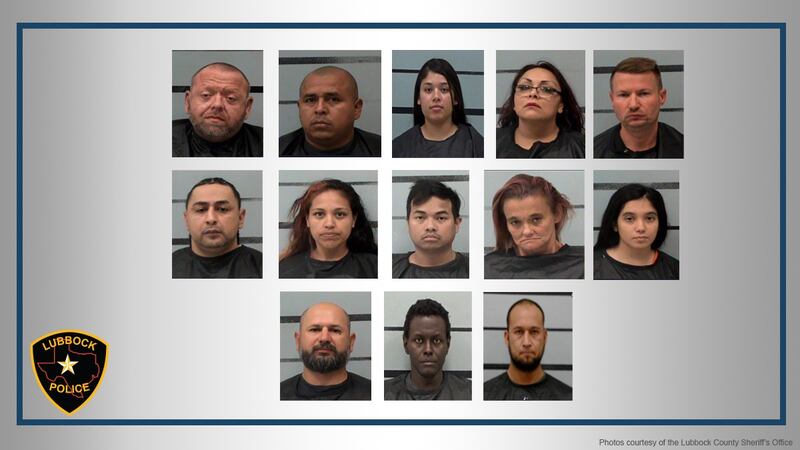 Published: Oct. 5, 2023 at 9:31 AM CDT
|
Updated: Oct. 5, 2023 at 9:40 AM CDT
LUBBOCK, Texas (KCBD) - The Lubbock Police Department conducted a two-day prostitution sting earlier this week.
Police arrested 14 people during the operation. In addition, one woman was identified as a possible victim of human trafficking.
The operation began on Monday and continued into Tuesday. The Lubbock Police Department's Special Operations Division, Lubbock Fire Rescue, Texas Department of Public Safety and Homeland Security all assisted in the sting.
The sting resulted in eight felony arrests for solicitation of prostitution, one arrest for felony prostitution and four arrests for misdemeanor prostitution, according to police.
The following people were taken into custody:
Andralynn Garcia, 20

Ricky Lopez, 35

Solicitation Prostitution

Phil Thuku Kamau, 28

Solicitation Prostitution

Pedro Trevino, 40

Solicitation Prostitution

Shannon Parnell, 46

Prostitution with one prior conviction

Stephanie Montiel, 22

Possession of marijuana

Prostitution

Felony Warrant

Makayla Romero, 21

Wayne John Hildebrand, 51

Solicitation Prostitution

Mario Ernesto Campo, 37

Solicitation Prostitution

Deric Calhoun, 43

Solicitation Prostitution

Israel Tapia, 34

Solicitation Prostitution

David Nim Oku, 36

Solicitation Prostitution

Elaine Guana, 38

Warrant – third degree felony

Prostitution with three or more previous convictions
Copyright 2023 KCBD. All rights reserved. The above information was provided by the Lubbock Police Department.