Which students get into advanced math? Texas is using test scores to limit bias
A new Texas law calls for every student who performs in the top 40% on a fifth-grade math assessment to be enrolled automatically in advanced math for sixth grade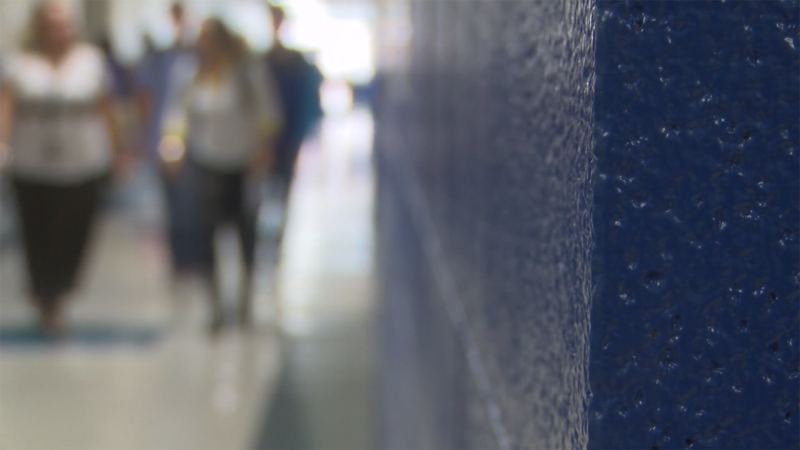 Published: Oct. 3, 2023 at 9:57 AM CDT
DALLAS (AP) — When Tha Cung looked over his sixth-grade class schedule, he took notice of the math block. He had been placed in an advanced class.
"I didn't know 'honors' even existed," he said.
Tha was little when his family immigrated from Myanmar and, for much of his time in Dallas schools, he took courses designed for children who are learning English. In fifth grade, his standardized test scores showed he was a strong math student — someone who should be challenged with honors classes in middle school.
Under the Dallas school system's policy, Tha's parents didn't need to sign him up for advanced math. A teacher or counselor didn't have to recommend him, either. In many schools, those are the hoops a student must get through to join honors classes. But Tha was automatically placed in the advanced course because of his scores on Texas' STAAR test.
A version of this approach will soon be replicated statewide as part of an effort to remove barriers that can stand between bright students and rigorous courses. Instead of having families opt in to advanced math, they are instead given the choice to opt out.
___
The Education Reporting Collaborative, a coalition of eight newsrooms, is documenting the math crisis facing schools and highlighting progress. Members of the Collaborative are AL.com, The Associated Press, The Christian Science Monitor, The Dallas Morning News, The Hechinger Report, Idaho Education News, The Post and Courier in South Carolina, and The Seattle Times.
___
A new Texas law calls for every student who performs in the top 40% on a fifth-grade math assessment to be enrolled automatically in advanced math for sixth grade.
The rollout could provide lessons for other states. Leaders across the country are confronting the need to prepare a new, diverse generation of workers in science, technology, engineering and math, or STEM. Heightening the alarm: Students nationally have been struggling to bounce back from widespread learning loss in math.
Before the pandemic, Black and Hispanic students in Texas were routinely left out of advanced classes — even if they earned high test scores, according to research by the E3 Alliance, an Austin-based education collaborative that advocated for the law.
Enrolling in advanced math in sixth grade clears the way for a student to take Algebra I in eighth grade. That leads to courses such as calculus and statistics during high school. And that can set a foundation for a STEM major in college and a high-paying career.
Advocates for the new policy say it's a workforce issue in addition to an equity issue.
"Especially in today's rapidly changing and technology-driven economy, math matters more than ever — for individual students and for the larger Texas workforce to remain competitive," said Jonathan Feinstein, a state director at The Education Trust, a national nonprofit promoting equity.
One recent morning at Sam Tasby Middle School, dozens of students in Room 304 were calculating the area of parallelograms and trapezoids. One of them, Alexis Grant, 11, thinks her year in sixth-grade honors math will pave the way for achieving one of her goals: studying at Harvard.
"I knew it would be challenging," Alexis said of her math class. "We push each other to get the work done."
More Dallas students have been enrolling in advanced math, and the classrooms have been more diverse.
In 2018, prior to the opt-out policy, about 17% of Black students in sixth grade and one-third of Hispanic students were in honors math, compared to half of white students. Now, 43% of Black students are in honors math when they enter middle school and nearly six in 10 Hispanic students are. The percentage of white sixth graders in honors math has also gone up, to roughly 82%.
Texas is home to more than 1,000 school districts, which means vastly different ways students could end up in advanced courses. The decisions were often subjective.
Teacher recommendations are a big factor in some districts. But those decisions can be swayed by implicit biases around what an "honors student" looks or acts like, education advocates say.
In other places, parents must request advanced classes for their children — but that can leave out students whose parents may not be aware of the option.
Some Central Texas districts also already have an opt-out policy. Those schools have seen far more Black and Hispanic students complete Algebra I in eighth grade, as well as jumps among children who are learning English.
In the Hays school district, curriculum officer Derek McDaniel has seen the number of students in advanced math balloon over the past three years since implementing the new policy.
As more districts move in this direction, McDaniel urges school administrators to prioritize parent communication. Explaining to families why their child is placed into honors math is critical, he said, adding that parents should know the benefit of this more challenging course load.
Communication with teachers is also key, McDaniel said. Some honors-level teachers expect limited behavior problems and for students to always complete homework assignments on time. With an opt-out policy, he said, some students will be new to the advanced track and will not have developed uniform study skills.
"The easy solution is to give up," McDaniel said. "We're gonna stick with the kid."
A handful of other states have embraced opt-out or automatic enrollment policies. Texas' strategy is unique in its focus on sixth-grade math as a gateway for more advanced courses.
The Texas Education Agency has given administrators until the 2024 school year to comply with the law in recognition of potential challenges. Schools may need to hire more advanced math teachers. Administrators may also have to find more time for tutoring.
Dallas chief academic officer Shannon Trejo said some students might begin middle school fuzzy on various math ideas. Or, because of the COVID-19 disruption, they may have some gaps in their understanding of foundational concepts.
"We need to be ready to build those little gaps and not make that be the cause for students to say, 'I don't think I want to do this anymore,'" she said.
The payoff may be years away, when current Dallas students win high-paying jobs in STEM fields.
Tha Cung was placed in that sixth-grade honors math class two years ago. Now he's an eighth grader enrolled in Algebra I. He thinks that will give him a leg up.
"My mom told me that I could be anything," said Tha, now 13. "So I chose engineer."
___
The Associated Press education team receives support from the Carnegie Corporation of New York. The AP is solely responsible for all content.