Texas Tech's 65th annual Carol of Lights to close Centennial Celebration
The 2023 event will boast several firsts, including the first corporate sponsor: The Coca-Cola Company.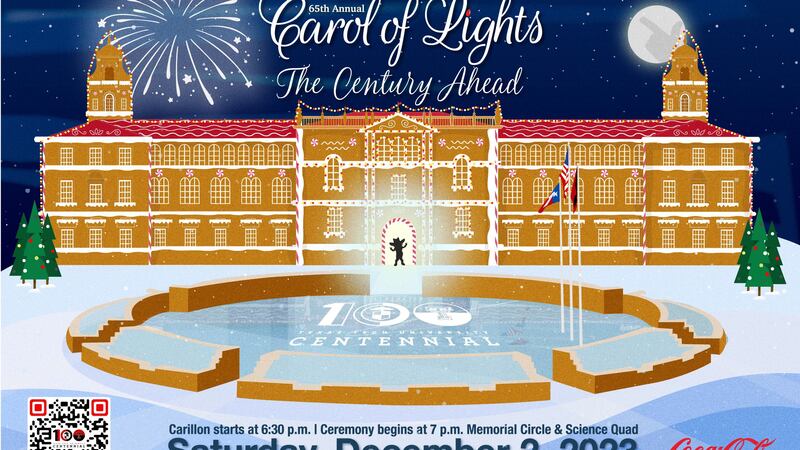 Published: Oct. 3, 2023 at 11:15 AM CDT
LUBBOCK, Texas (NEWS RELEASE) - When Texas Tech University's Centennial Celebration kicked off at the 2022 Carol of Lights®, it was one of the most fantastic displays the Red Raider community had ever seen. Now, a full year's worth of historic pageantry will culminate in the 65th annual Carol of Lights® and Centennial Closing Ceremony – and it looks to be even more incredible.
The 2023 Carol of Lights® ceremony is scheduled for 7 p.m. Dec. 2, with the traditional carillon concert preceding it at 6:30 p.m. As the more than 25,000 Christmas lights illuminate the Science Quadrangle, a fireworks display and drone show will illuminate the night sky over campus.
While the drone show will mark the first of its kind ever held in Lubbock, there's another first at this year's Carol of Lights® – a corporate partnership with The Coca-Cola Company. Made possible through that partnership, the evening will feature performances by Lost Wax, the original mashup party band, and Cirque Entertainment.
Lost Wax makes its first trip to Lubbock as the headliner for this year's ceremony. Their big-band sound, complete with a dazzling horn section, will appeal to Red Raiders young and old. The group was most recently featured as the house band at the 2023 NFL Draft in Kansas City.
For more than 25 years, the incredible artists from Cirque Entertainment have been entertaining audiences around the world. Attendees at this year's ceremony will get to experience the dazzling aerial artistry that has made Cirque's performances among the most sought-after in the world.
"From the moment last year's Carol of Lights® Ceremony was over, the planning immediately began for this year's event," said Blayne Beal, the university's director of centennial coordination. "Our opening ceremony was spectacular, and we knew that we wanted to create an even bigger and better show this year to help us usher in our second century.
"We couldn't be more excited about this year's featured entertainment. Lost Wax is going to wow our audience with their sensational talent and the energy they will bring to the Carol of Lights® stage. And having Cirque perform has been on top of our wish lists for a long time. We are thrilled Red Raiders will get the chance to witness its spectacular artistry and talent."
Attendees also will see special performances by Mariachi Los Matadores and Annie Chalex Boyle. The latter, an associate professor of violin at Texas Tech and concertmaster for the Lubbock Symphony Orchestra, will perform one of the most anticipated songs every year at Carol of Lights®, "O Holy Night." Her stirring rendition promises to be one of the highlights of the evening.
The 2022 Carol of Lights® set a record for attendance with over 25,000 spectators. With organizers looking to surpass that mark, this year's ceremony was moved to Saturday to accommodate a larger crowd and make it easier for out-of-town alumni to attend the event.
The 2023 event is expected to be the largest in the 65-year history of the Carol of Lights® – and the most notable, thanks to the contributions of The Coca-Cola Company.
"We are honored and privileged to welcome The Coca-Cola Company as our very first presenting sponsor for Carol of Lights®," Beal said. "Coca-Cola has been a yearlong Centennial partner and now they have stepped up to provide additional support to ensure that the closing of our celebration is a memorable and exciting event for all Red Raiders. We are so very thankful for the relationship we share with Coca-Cola and for their unwavering commitment to our continued success."
Texas Tech has had a continual contract/agreement in place with Coca-Cola for 100 years, making it the longest active contract in university history.
"We are excited to partner with Texas Tech University as the presenting sponsor of the time-honored tradition that is the Carol of Lights®," said Ryann McCarron, a senior account executive for Coca-Cola Southwest Beverages. "Texas Tech and Coca-Cola have been partners for 100 years, and it is only fitting we celebrate Texas Tech's milestone together with an ice-cold Coca-Cola beverage."
The Carol of Lights® ceremony will be broadcast in Lubbock on PBS and online. More details on the broadcast will be announced as the event approaches. Further logistical information – including parking, handicap access, street closures, etc. – will be released later this fall.
Copyright 2023 KCBD. All rights reserved.