More rain for some, cold front for all
Published: Oct. 3, 2023 at 7:33 AM CDT
|
Updated: Oct. 3, 2023 at 12:31 PM CDT
LUBBOCK, Texas (KCBD) - Scattered thunderstorms and showers will gradually diminish this morning, but another round of storms and showers is likely late today.
As the morning storms move east and diminish, cloud cover will gradually give way to some sunshine. This afternoon will be partly cloudy, breezy, and warm. At times, non-storm winds may gust up to around 30 mph. Temperatures will peak in the 80s, a little above average.
I've included rainfall totals from around the area to the end of this post.
Thunderstorms late this afternoon and this evening may be severe. The main threats continue to be wind gusts near 60 mph and flooding downpours
As the storms move eastward this evening into the central viewing area (including the Lubbock area) they will be weakening but may still produce gusts near 60 mph, hail up to about an inch, and localized flooding downpours.
Stay weather aware. Watch and listen for severe weather watches and warnings which may be issued. You can view warning, watch, or advisory issued by the National Weather Service (local or anywhere in Texas or the U.S.) plotted on the Interactive Radar. Access the radar with the bottom right icon. Under the radar menu (three vertical dots in the circle, lower right) activate the Tornado/Severe and Flood icons (under Alerts). Activate Storm Tracks (under Overlays).
Turn on app notifications. If a watch or warning* is issued for your location the app will alert you. Even if it is not running (if you give it permission). Notifications are under Settings in the app menu (three horizontal bars in the upper left).
The first notable cold front of the season will sweep across our area late Wednesday bringing drier and cooler air. Rain chances will diminish but so will temperatures. I expect Lubbock-area highs in the 70s and lows in the 50s through the weekend. It will be a nice change.
Rain Reports
Rainfall the past 24 hours at the Lubbock airport totaled 1.63″. The total for October so far is 1.68″, which is 1.56″ above the average. The total for 2023 is 14.51″, which is 0.86″ below the year-to-date average.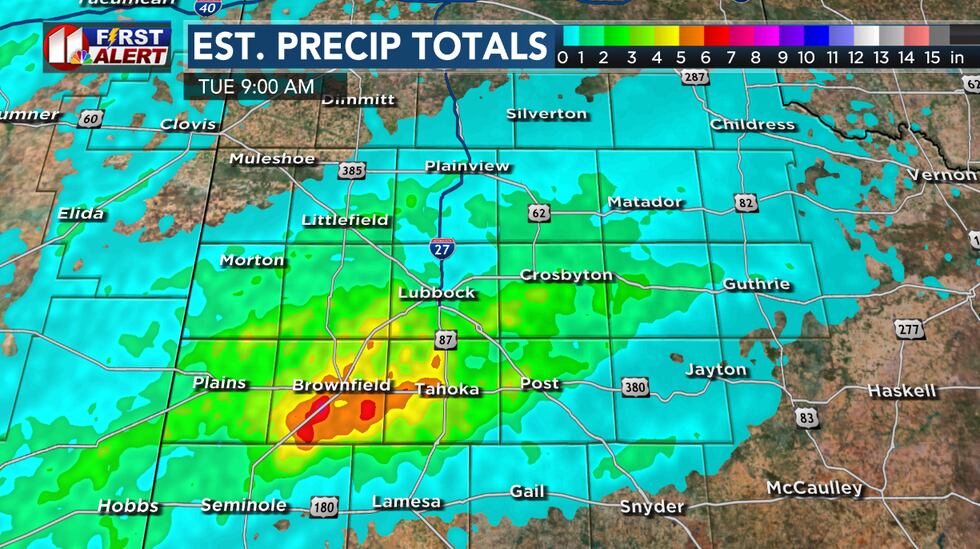 Rain totals (inches) in and near the KCBD viewing area for the 24 hours ending at 8:30 AM Tuesday:
3.45 Denver City
3.39 New Home
3.36 Slaton
3.31 Brownfield
3.16 Seagraves
3.06 Wolfforth
2.62 O'Donnell
2.50 Lubbock All Saints
2.51 Reese Center
2.48 Lubbock Southeast
2.46 Sundown
2.44 Lubbock Christian University
2.42 Post
2.37 Tahoka
2.23 Lubbock Northwest
2.18 Welch
2.14 Plains
2.02 Lubbock East
1.91 Levelland
1.83 Hobbs
1.76 Smyer
1.71 Ralls
1.64 Seminole
1.65 White River Lake
1.54 New Deal
1.25 Spur
1.21 Anton
1.20 McAdoo
1.07 Shallowater
1.04 Roaring Springs
1.00 Graham
0.99 Floydada
0.93 Abernathy
0.86 Guthrie
0.82 Fluvanna
0.81 Matador Ranch
0.80 Tatum
0.79 Aiken
0.78 Olton
0.73 Amherst
0.72 Morton
0.61 South Plains
0.51 Gail
0.51 Lake Alan Henry
0.47 Lamesa
0.29 Paducah
0.27 Northfield
0.28 Plainview
0.23 Caprock Canyons
0.24 Jayton
0.22 Turkey
0.19 Estelline
0.18 Silverton
0.14 Tulia
0.14 Vigo Park
0.12 Childress
0.11 Friona
0.08 Hackberry
0.06 Hart
0.03 Snyder
0.01 Aspermont
0.01 Snyder SSW
Source: West Texas Mesonet and National Weather Service Lubbock
Copyright 2023 KCBD. All rights reserved.