Laphonza Butler sworn in to replace late California Sen. Feinstein, third Black female senator in US history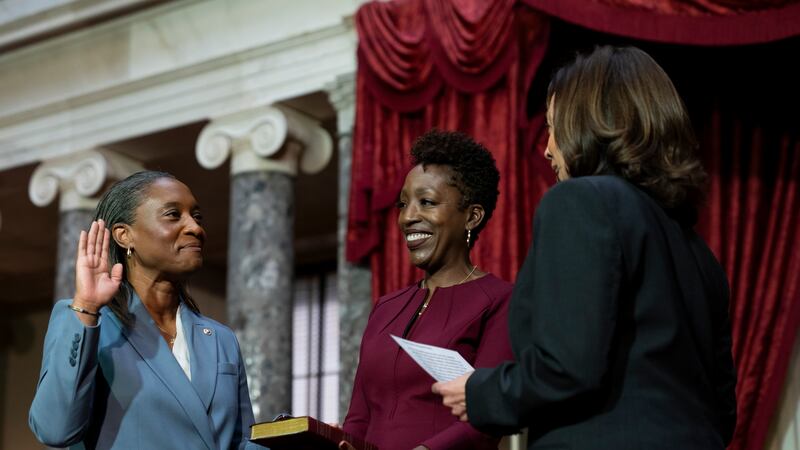 Published: Oct. 3, 2023 at 2:12 PM CDT
|
Updated: Oct. 3, 2023 at 3:22 PM CDT
WASHINGTON (AP) — Former union leader and Democratic insider Laphonza Butler was sworn in as the newest member of the Senate on Tuesday, replacing California Sen. Dianne Feinstein after her death and becoming only the third Black female senator in history.
Butler was appointed by California Gov. Gavin Newsom on Sunday, just two days after Feinstein died at her home in Washington. Butler is a longtime fundraiser and strategist in the state's Democratic circles and was the head of Emily's List, a national organization that raises money for women candidates who support abortion rights.
The new senator was sworn in by Vice President Kamala Harris, who served as the second Black female senator until she resigned in 2021 to join President Joe Biden in the White House. The first was Democratic Sen. Carol Moseley Braun of Illinois, who served one term in the 1990s.
With dozens of supporters and family members looking down from the gallery, Butler smiled broadly as she walked down the center aisle of the Senate alongside Democratic Sen. Alex Padilla of California and Senate Majority Leader Chuck Schumer. After Harris administered the oath of office, members of the Senate from both parties crowded around her to shake her hand.
Schumer, D-N.Y., said that "today, the Senate takes another step towards fully reflecting our vibrant democracy."
He said Butler has "dedicated her entire career to fighting for others - fighting for women, fighting for working families and fighting for the cause of justice."
After she was sworn in, Biden called her to congratulate her, the White House said.
The Congressional Black Caucus also held a ceremonial swearing-in for Butler. "Her background and years of experience will bring a much-needed perspective to the Senate, which currently does not have any Black women," CBC Chairman Steven Horsford, D-Nev., said in a statement after she was appointed.
Butler is also the first openly LGBTQ+ senator from California.
Though she has never held elective office, Newsom praised her "deep knowledge" of the legislative process and said she was the kind of candidate he would build "if I had to literally design from my imagination."
"She's the only choice," Newsom added.
Butler is well known inside California's Democratic party apparatus. Her credentials include working for nearly two years with a consulting firm tied closely to Newsom and founded by his top political lieutenants. She also served as a senior adviser to Harris' 2020 presidential campaign.
It is unclear if Butler will run to hold the seat when Feinstein's term ends next year. A competitive race for Feinstein's seat is already underway among three prominent House Democrats, Reps. Katie Porter, Adam Schiff and Barbara Lee, who is Black. The governor has said he didn't want to tip the scales in the 2024 race by choosing among those candidates.
Newsom said he told Butler to "do what you think is best for you and the state of California, and you make that judgment completely independent of any expectations from me."
Butler, 44, comes from a working-class family. Her father, a small-business owner, died from a terminal illness when she was 16. Her mother worked as a classroom aide, a home care provider, a security guard and a bookkeeper while caring for Butler and her two siblings, the governor's office said. She was elected president of the state's largest labor union in the early 2010s, back when the nation was reeling from the Great Recession.
Butler has also worked for corporate clients, including Airbnb and Uber.
In a statement released by Emily's List after her appointment, Butler said she was honored and ready to get to work.
"For women and girls, for workers and unions, for struggling parents waiting for our leaders to bring opportunity back to their homes, for all of California, I'm ready to serve."
Newsom, who was elected governor in 2018, has now chosen both of the state's U.S. senators. The selection of Butler bears resemblance to the last time, when he tapped his close friend and confidant Padilla for Harris' seat when she resigned in 2021.
Feinstein, who died after months of declining health, had held the seat since 1992, when she was elected alongside California Sen. Barbara Boxer, Moseley Braun and others in what became known as "the year of the woman." She was a giant in California politics, having been the first female mayor of San Francisco and a force in the state's Democratic circles.
In the Senate, Feinstein was the first female chairwoman of the Senate Intelligence Committee and the first female top Democrat on the Senate Judiciary Committee. Her Senate colleagues gathered on the floor Friday to remember her impact and her personal friendships.
When Newsom announced Butler as his pick, he said the priorities Feinstein fought for in Congress — reproductive freedom, equal protection and safety from gun violence — were under assault in the nation.
"Laphonza will carry the baton left by Sen. Feinstein (and) continue to break glass ceilings and fight for all Californians in Washington D.C.," Newsom said.
After Butler was sworn in, Schumer said that Feinstein "is looking down at this moment with pride now that her seat is in good hands."
___
Blood reported from Los Angeles.
Copyright 2023 The Associated Press. All rights reserved.