Kevin Porter barred from Houston Rockets after domestic violence arrest in New York
The Houston Rockets have told Kevin Porter Jr. that he can not be with the team in any capacity in the wake of his domestic violence arrest last month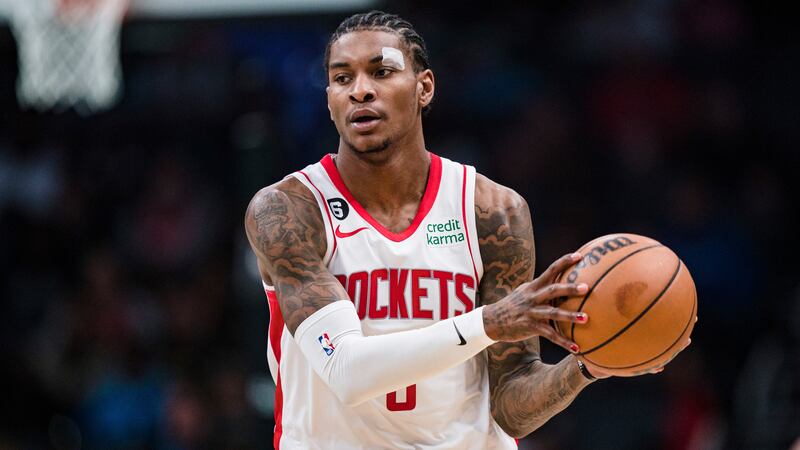 Published: Oct. 3, 2023 at 9:53 AM CDT
HOUSTON (AP) — The Houston Rockets have told Kevin Porter Jr. that he cannot be with the team in any capacity in the wake of his domestic violence arrest last month.
Porter was arrested after an alleged attack on his former WNBA player girlfriend Kysre Gondrezick in a New York City hotel room Sept. 11. Prosecutors said that the attack left her with a fractured neck vertebra and a deep cut above her right eye.
The 23-year-old Porter has pleaded not guilty to felony assault and strangulation and is due back in court in Manhattan on Oct. 16.
"The allegations against him are deeply troubling," general manager Rafael Stone said at Houston's media day Monday. "Going back a few weeks, as soon as I heard the allegations, I informed his representatives that he could not be part of the Houston Rockets. They understood and he has not been with the team or around the team or had any interaction with the team since that time and will not be at media day today or in training camp."
Stone said that aside from that, everything else related to Porter and his situation fall under the NBA's collective bargaining agreement and will be handled by the league.
"What's left for the team to do is to evaluate the best steps for our organization that remain in compliance with the league domestic violence policy," Stone said.
Porter signed a four-year, $82.5 million contract with the Rockets before last season and was expected to be a big part of the team as Houston looks to return to contention after several dreadful seasons. Stone was asked if he believes Porter will ever be part of the team again.
"I can't answer that and stay in compliance with the policy," Stone said. "So I think this is now a league matter."
Last year, Porter averaged 19.2 points, 5.3 rebounds and 5.7 assists per game in his third year in Houston after one season in Cleveland.
While his talent is undeniable, his NBA career has been more noteworthy for his problems off the court.
In November 2020, while playing for the Cavaliers, Porter was arrested after police said they found a loaded handgun and marijuana in his car after a single-vehicle crash. Porter claimed he didn't know the gun was there, and his charges were eventually dismissed.
Porter, a 2019 first-round draft pick from the University of Southern California, was traded from Cleveland to Houston a few months later after he reportedly blew up at the Cavaliers' general manager after finding out that his locker had been moved to make room for a newly acquired player.
In April 2021, the NBA fined Porter $50,000 for violating the league's COVID-19 health and safety rules by visiting a Miami strip club. In January 2022, the Rockets suspended Porter for a game after then-coach Stephen Silas said the player had a "spirited debate" and "lost his temper" at halftime.
Stone was asked if the Rockets knew of any unpublicized problems in his past before signing him to the extension.
"There weren't any issues like this that I'm aware of," Stone said.
___
AP NBA: https://apnews.com/hub/nba