Houston QB Stroud's early success gives hope to franchise after three dismal seasons
In just four games C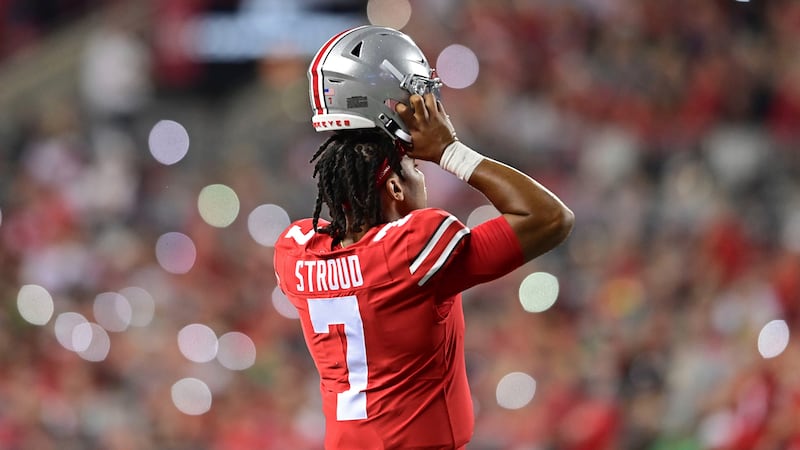 Published: Oct. 3, 2023 at 9:54 AM CDT
HOUSTON (AP) — In just four games C.J. Stroud has already brought hope to a team that has been hopeless for three seasons.
The rookie quarterback threw for 306 yards and two touchdowns to lead the Houston Texans to a 30-6 win over the Pittsburgh Steelers on Sunday.
It was Houston's second straight victory and leaves the Texans (2-2) just one win shy of their win total from last season's dismal 3-13-1 finish.
The second overall pick knows that most people didn't expect much from this rebuilding team this season. But that doesn't matter to him.
"When I was at Ohio State, we used to say: 'Buckeyes against the world,'" he said. "Now I'm bringing that swag here: Texans against the world. It is not about what they write about us. It's about what we put on the field on Sundays, the work we put in. There's a lot of football to be played still, but we're going to walk around with that swag. We know what we can do."
What they did Sunday was dominate a Steelers team that came to town having won two in a row. They built a 16-0 lead by halftime and used two fourth-quarter touchdowns, capped by a 52-yard throw from Stroud, to roll to their most lopsided win since 2017.
Stroud ranks fourth in the NFL with 1,212 yards passing, which are the second-most yards in NFL history by a rookie in his first four games. He has thrown six touchdown passes and has set a rookie NFL record by making 151 pass attempts without an interception.
"Anything we asked him or pointed out to him as a point of emphasis, he's took it to heart and he's shown those improvements the next week in the game," coach DeMeco Ryans said. "And that's big time for a quarterback ... where you can take the corrections from the meeting rooms to the practice field and then take them to the game ... so, it's impressive to see a young guy make those adjustments from week to week."
Stroud said Sunday that he'd take a moment to savor the win before looking to the next game where he'll try and build on what he's accomplished so far.
"I want to do more," he said. "I want to be really great at this game. I want to put in the work every week."
WHAT'S WORKING
Houston's injury-decimated offensive line didn't allow a sack for a second consecutive week. The group, which lost four starters in camp, kept Stroud upright against T.J. Watt and the Steelers despite missing left tackle Laremy Tunsil for a third straight game.
"I thought overall collectively as an offensive unit, we played really well in stifling their pass rush," Ryans said.
WHAT NEEDS HELP
The Texans did most everything right Sunday, but they could clean up their play a bit after getting eight penalties for 63 yards against Pittsburgh.
STOCK UP
RB Dameon Pierce. The second-year player had his best game of the season Sunday after struggling in the first three games. He had 81 of Houston's season-high 139 yards rushing after entering the game with just 100 yards rushing combined through the first three games.
"It was awesome to see him just continuing to press forward," Ryans said. "When he got the ball, he had a 'I will not be denied' mentality, and it showed."
STOCK DOWN
WR Robert Woods. He had a season-low 26 yards on three receptions.
INJURIES
OL Kendrick Green hurt his knee in the fourth quarter Sunday. … RT Tytus Howard could make his season debut this week after missing the first four games after breaking his right hand in camp.
KEY NUMBER
6 to 2. Stroud has thrown six touchdown passes compared to just 2 by Bryce Young, who was taken first overall by the Panthers in this year's draft.
NEXT STEPS
Stroud and the Texans will look to improve when they visit the Falcons next week where they'll try for their first three-game winning streak since winning nine straight in 2018.
___
AP NFL: https://apnews.com/hub/nfl