Thunderstorms produce heavy rain across South Plains
Published: Oct. 2, 2023 at 5:43 PM CDT
|
Updated: Oct. 2, 2023 at 10:45 PM CDT
LUBBOCK, Texas (KCBD) - updated 10:23 p.m. - While there have been a few severe warnings earlier this evening, the main headline tonight has been the soaking rain. We expect showers and thunderstorms to continue moving from SW to NE across the area though Midnight or early morning. While storms may be loud, the severe threat has trended lower. Flooding is the primary concern.
Looking ahead to Tuesday, there is still a chance for rain early in the morning. Then partly to mostly cloudy through the day, before another chance for storms late in the day.
update 8:39 p.m. - Severe thunderstorm warnings are in place for Hockley and Terry counties, for potential of 1″ hail and 60mph gusts in the most-intense parts of these storms. Storms are moving NE around 25mph.
More widespread is the heavy rainfall. The Texas Tech Mesonet sites in Plains and Denver City are both well over 1″ of rain tonight, Denver City closing in on 2″. And it's falling in not much time, leading to some localized flooding.
It's raining now in Lubbock. Heavier rain is expected in the city during the 9 p.m. hour. Additional showers and storms now stretch up to Plainview and down southwest to Seminole and Andrews.
A severe thunderstorm watch is in effect until 2 a.m. for the western South Plains, meaning some hail and gusty wind will be possible with the strongest storms. More common area-wide will be soaking rain. We'll have a closer look coming up on NewsChannel 11 at 9 on FOX34.
UPDATE: A Severe Thunderstorm Watch has been issued for the western South Plains. The Watch extends from Dimmitt south to Littlefield to Brownfield to Seminole and west into New Mexico. The Watch does not include Lubbock or Plainview.
Scattered strong to severe thunderstorms are expected over the South Plains this evening, Tuesday and Wednesday. As storms move out of New Mexico this evening, they will bring the potential for some very heavy rainfall, strong winds and isolated potential for hail one inch or larger in size.
Storms will decrease as they move across the region later tonight into tomorrow morning.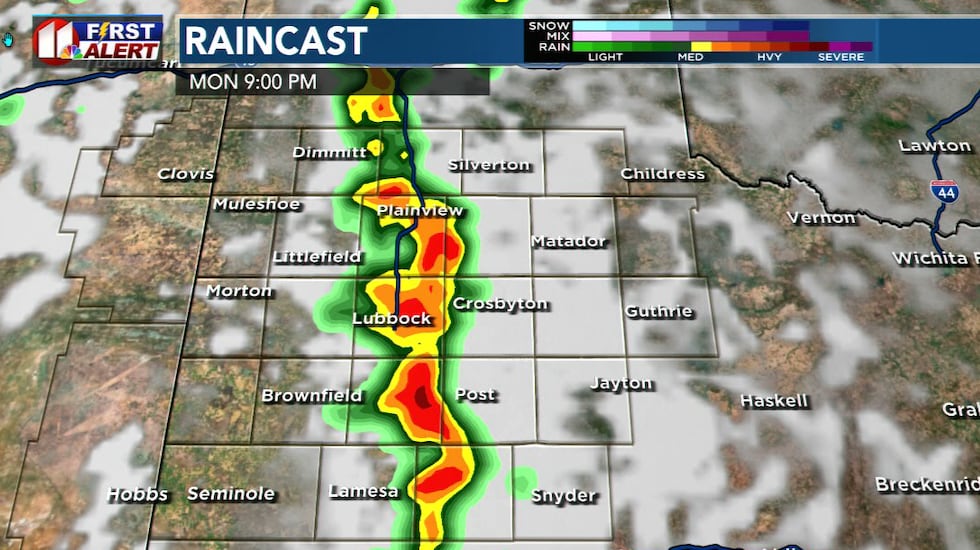 Tomorrow afternoon, storms will be more likely in the eastern communities and not as widespread as they may be tonight.
Temperatures will remain in the 60s at night and low to mid 80s Tuesday and Wednesday. Storm potential will increase again on Wednesday afternoon and evening with severe storms possible.
Thursday will bring a drop in temperatures, drier air and decreasing rain chances. Lows will remain in the 70s and lows could fall into the 40s by Friday morning.
Copyright 2023 KCBD. All rights reserved.