Anderson and Blackburn Provide Second-Half Surge to Push No. 14 Tech past OU, 2-0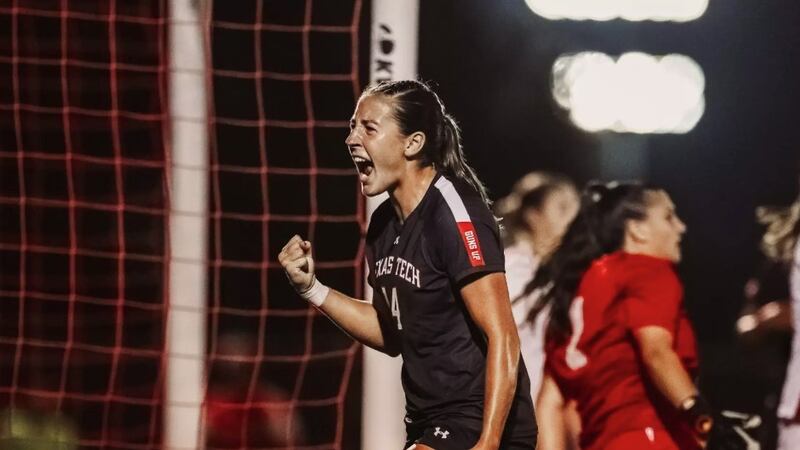 Published: Sep. 29, 2023 at 10:15 AM CDT
LUBBOCK, Texas (NEWS RELEASE) - A familiar connection and a penalty kick goal powered No. 14 Texas Tech past the Oklahoma Sooners, 2-0, Thursday night at the electric John Walker Soccer Complex.
After a slow first half saw Texas Tech (10-0-2, 4-0-0 Big 12) held without a first half goal for the first time since the Sept. 10 match against Arizona State, the Red Raiders found their footing in the second half using a pair of goals off set pieces just 30 seconds apart to down Oklahoma (6-5-1, 2-1-1 Big 12) in front over a crowd of over 1900.
The first goal, off a perfect corner kick service from Macy Blackburn, was scored by senior captain Hannah Anderson. The goal was her fourth of the season and gave the Red Raiders a 1-0 lead 37 seconds into the 52nd minute.
With a goal added to the ledger, the Red Raiders kept searching for the decisive second goal.
The wait may have been shorter than expected, as a Sooner foul on Alex Kerr, deep in the 18-yard box awarded Tech a penalty kick just 30 seconds after the first goal.
After assisting on the first strike, Blackburn stepped up and added her second goal of the season, drilling a shot into the left-hand corner of the net.
The goal was all Madison White and the Red Raider backline needed, as the keeper made three saves to earn her 33rd career clean sheet and seventh of the season.
White has now allowed one goal or fewer in 20 consecutive matches, a streak that spans over a full calendar year. By defeating Oklahoma, Tech earned its 10th victory of the season, eclipsing its win total for a season ago.
The 10-win season is the 11th for head coach Tom Stone in his 17 years in Lubbock.
Blackburn's assists on Anderson's game-winner was her 10th of the season, making her just the third player in Texas Tech history to record double-digit assists in season.
The Keller native needs just two assists the remainder of the season to tie Alli Murphy (2014) for the most single-season assists in program history and now has recorded 22 assists in her career. The assist tonight moved the outside back into a tie with Tech legend Kirsten Davis for fourth on the all-time assists list.
HC TOM STONE: "I think I heard that Hannah say this too, but give Oklahoma credit. They presented a real big challenge for us tonight. They tried to take away a lot of the stuff that we've shown to be good at, and forced us to lose our identity and then play it in a totally different style. We just had to find different spaces on the field to do our thing, and the space that they took away, or spaces that we like, but they gave us something else. Today it was underneath, and it was back to goal for our forwards. Once we started getting balls through that big gap between their holding midfielders and their backline. Ashleigh [Williams] and Alex [Kerr] started holding it and bringing our midfield in that way, and then the game changed for us. We were trying make that change from the sideline. You might have seen that, but the reality is, we needed a little halftime chat to get it right. The girls are very quick at absorbing and that's been super impressive about this team. They're like, 'Okay, fine. Yeah, we can play that'. We can play that sequence of backing through, backing wide. So, we got more room on the outside with our dangerous players like [Macy] Blackburn, Kylie [Bahr], and Ashleigh, so those were really up to halftime adjustments. We just found new places to play and got them in that way."
On the environment: "Incredible. All these corporate groups came and bought tents and the party going. The parking lot was full at 4:30pm. You couldn't park, which is amazing. 'The' John Walker of the John Walker Soccer Complex, we had to cone off an area so he could pull into the building he built and watch us play. The crowd was amazing. Nicole Payne has done a great job with fan engagement and managing that. When the team does well, people want to see it. There are only three teams playing right now, so I think the response from the community, from the Greeks, from the families, and from the Youth Soccer was amazing. There were 200 Sting girls here today. When you get all three of those groups coming, you're going to have a big crowd. Almost 2,000 people, that's going to be the biggest since 2016 or 2017. Yeah, it was awesome. The crowd rattled us the last time, we were nervous because of our own crowd. Today we were fine. We're going to need that."
Anderson: "Yeah, it's great that we've started so well and we're just trying to keep it rolling. We always talk about the next game being the biggest game for us, because we want to remain focused. I think that our team has done a really good job at doing that. Honestly, it's one game at a time for us and not really getting caught up in the rankings. We're enjoying that we're having this great start but honestly, we're just trying to keep it rolling."
Blackburn: "My freshman year Hannah [Anderson] and I had a really good relationship. I know if I can put the ball, honestly in a decent spot, she's so big in the air, that she's going to go after it and get it. We do a lot of stuff off the pitch as well. We're really good friends and we also do a bunch of extra work. It's been cool to experience that and get that connection back a little bit this year."
UP NEXT: The 14th-ranked Red Raiders close out the two-match homestand on Sunday afternoon when they welcome new Big 12 foe Cincinnati for a 1 p.m. match.
Copyright 2023 KCBD. All rights reserved.