Frenship ISD to host ribbon cutting ceremony for Alcove Trails Middle School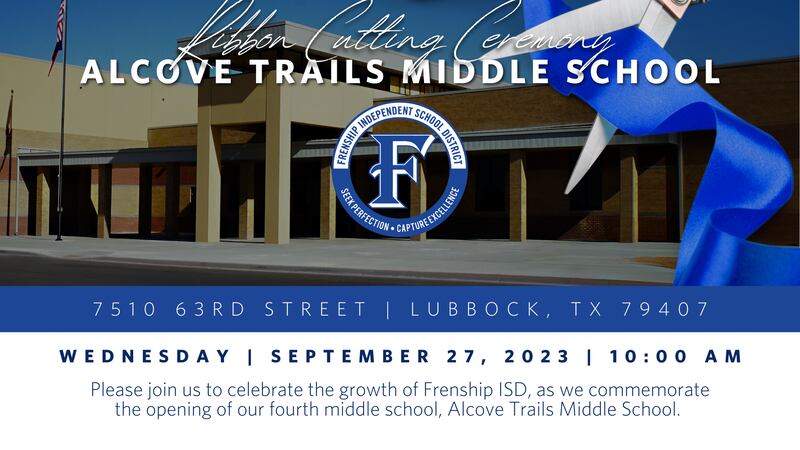 Published: Sep. 26, 2023 at 9:27 AM CDT
LUBBOCK, Texas (NEWS RELEASE) - On Wednesday, September 27, Frenship ISD will host a ribbon cutting ceremony for its newest campus, Alcove Trails Middle School. The community is invited to join Frenship administrators and local leaders in celebrating the opening of the new school during the ribbon cutting at 10 a.m. on the front sidewalk of Alcove Trails Middle School located at 7510 63rd Street.
Designated as one of the fastest growing school districts in Texas, the addition of Alcove Trails helped accommodate the rising student enrollment and alleviate crowding across the other three Frenship middle schools.
Construction on the 160,000 square foot campus began in November of 2021, and last fall, the Frenship community, staff, students, and parents helped name the new school. After more than a year and half of construction, Alcove Trails opened its doors in August of 2023 and welcomed more than 400 students and 50 staff members.
Alcove Trails is one of three new schools that was approved by voters in the Frenship ISD 2020 Bond. Frenship's ninth elementary school is scheduled to open in August of 2024 and the second high school will open in August of 2025.
Copyright 2023 KCBD. All rights reserved.