West Virginia beats Texas Tech 20-13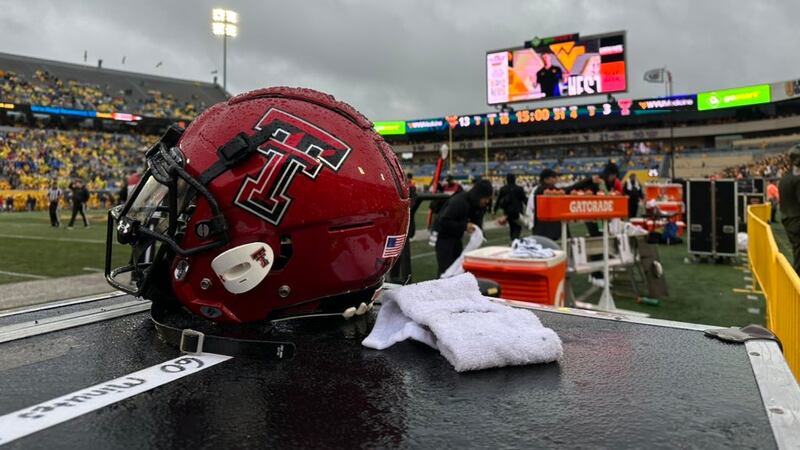 Published: Sep. 23, 2023 at 2:10 PM CDT
|
Updated: Sep. 23, 2023 at 7:08 PM CDT
MORGANTOWN, WV (KCBD) - Texas Tech fell to West Virginia 20-13 on the road to go 1-3 overall, and 0-1 in Big 12 play.
Super-senior defensive lineman Jaylon Hutchings made his 50th consecutive start, which is the second-longest active streak in FBS.
Texas Tech's Gino Garcia broke the ice in the first quarter, kicking a 39-yard field goal, putting the Red Raiders up 3-0. The Mountaineers fired back on 3rd and goal as CJ Donaldson Jr ran 2 yards for a touchdown. West Virginia took the lead 7-3.
At the end of the first quarter, Texas Tech's starting quarterback Tyler Shough went down holding his left ankle. He was taken off the field and did not come back. Backup quarterback Behren Morton entered the game for his second appearance of the season after entering the game last week against Tarleton State in the 3rd quarter.
West Virginia extended their lead with a 28-yard field goal from Michael Hayes, making it 10-3. With 4:16 left in the first half, West Virginia turned it over as Red Raider Ben Roberts was there for the interception, forcing West Virginia's second turnover of the first half.
The third quarter was a defensive slugfest as both offenses struggled to gain any momentum. The fourth quarter picked up momentum as Behren Morton's pass to Jerand Bradley was complete for a 6-yard touchdown with 11:54 minutes remaining in the game.
It was West Virginia's quarterback Nicco Marchiol's first collegiate career start at West Virginia and his touchdown pass came in the fourth quarter when he found Kole Taylor in the end zone for a Mountaineer touchdown, making it 20-10. Texas Tech added to their score for the last time with a 34-yard field goal from Gino Garcia to cut the deficit to 20-13.
The end of the fourth quarter was a nail biter as Texas Tech attempted to tie the game up on 4th down but fell incomplete. West Virginia was then able to take a knee to end the game.
Behren Morton passed for 158 yards. Tahj Brooks led the team with 25 carries for 149 yards rushing.
Texas Tech fell 20-13 in West Virginia. The Red Raiders will host Houston on Saturday, Sept. 30 at 2:30 p.m.
Copyright 2023 KCBD. All rights reserved.