Triple digit forecast is back
Published: Sep. 2, 2023 at 7:26 PM CDT
|
Updated: Sep. 2, 2023 at 11:01 PM CDT
LUBBOCK, Texas (KCBD) - Unfortunately, the first week of September is bringing hot and dry weather to our area. This forecast has triple digits upon us for the next week.
Overnight temperatures tonight will be in the mid-60s. We will have mostly clear skies with southeast winds around 5 to 10 mph.
Note that climate normals for Sunday are usually in the upper 80s, we are seeing triple digits.
Sunday will be hot with high temperatures near 101°. Expect lots of sunshine with west winds around 5 to 10 mph in the morning. Winds will become southwest in the afternoon. Sunday will also bring elevated fire weather concerns due to such low relative humidity values.
Triple digits continue through Labor Day. A high temperature near 101° degrees is expected for Monday. Monday will be breezy too with Southwest winds around 15 to 25 mph.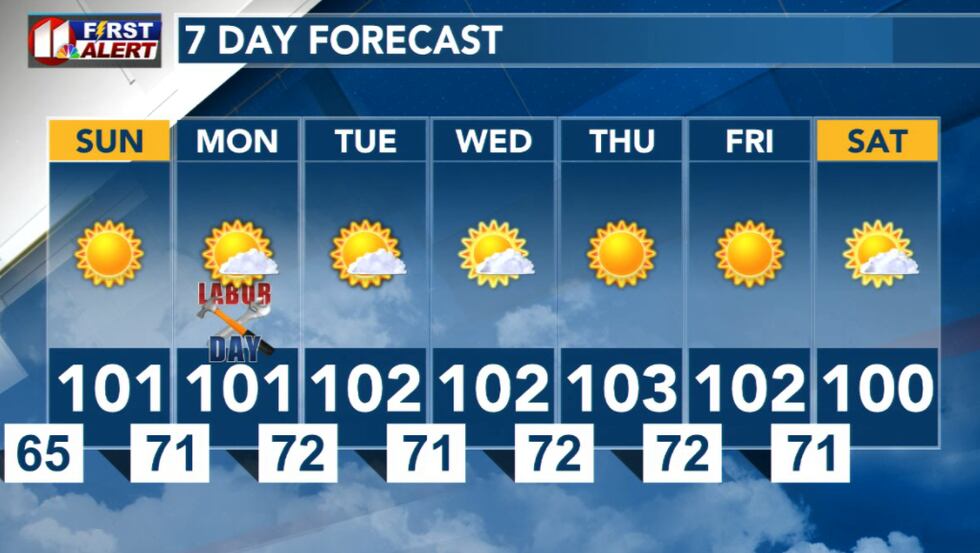 Tuesday through Friday will see temperatures above 100°. The only hope in this forecast is next Saturday high will be around 100°, possibly indicating a cooler forecast going into next week, hopefully.
Copyright 2023 KCBD. All rights reserved.