Showers, storms this afternoon, evening
Published: Aug. 29, 2023 at 7:02 PM CDT
|
Updated: Aug. 29, 2023 at 10:34 PM CDT
LUBBOCK, Texas (KCBD) - This afternoon, shower and storm development in the northern part of the viewing area is expected to expand southeast. At this time, these showers and storms are not likely to be severe. Wind gusts up to 50 mph and brief periods of heavy rainfall may be associated with these storms.
Overnight temperatures will be in the mid-60s with partly cloudy skies tonight. North winds will be around 5 to 10 mph. Rain chances will cease by midnight.
Wednesday will be dry and sunny with high temperatures in the lower 90s. North winds will continue in the morning around 5 to 10 mph.
Wednesday evening wind direction will shift and become east. Expect clear skies after midnight with overnight temperatures in the mid-60s.
Temperatures will begin to warm up on Thursday into the upper 90s. After the forecast high, temperatures will continue in the upper 90s, bringing triple digits back for some across the area. Rain chances for these next seven days are very slim too. The Labor Day forecast is expected to be hot and dry, too.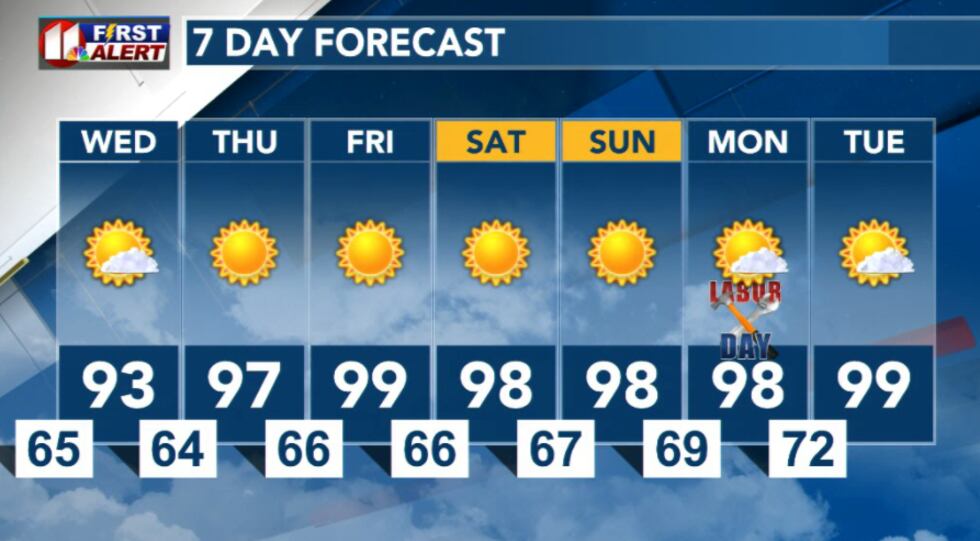 Copyright 2023 KCBD. All rights reserved.