Showers, storms off to the west this evening
Published: Aug. 21, 2023 at 4:11 PM CDT
|
Updated: Aug. 21, 2023 at 10:49 PM CDT
LUBBOCK, Texas (KCBD) - This afternoon widespread showers and storms are active off to the west. As of 3:50 p.m., none of these storms were severe. This activity is expected to end late this evening or before midnight.
Overnight temperatures will be in the lower 70s with partly cloudy skies. East winds will be breezy this evening around 15 to 20 mph with gusts up to 30 mph. After midnight wind speeds will die down to around 5 to 10 mph.
Tuesday will be sunny with high temperatures in the upper 90s. Northeast winds will be around 5 to 10 mph in the morning, while afternoon winds will come from the east at around 15 mph.
Wednesday and Thursday's high temperatures are expected to stay in the upper 90s! Triple digits may make another appearance Friday and Saturday, right at 100°. Sunday evening storm chances will return to the area. Cooler temperatures, showers, and storms are expected on Monday with highs in the mid-90s and storm chances expected to be widespread.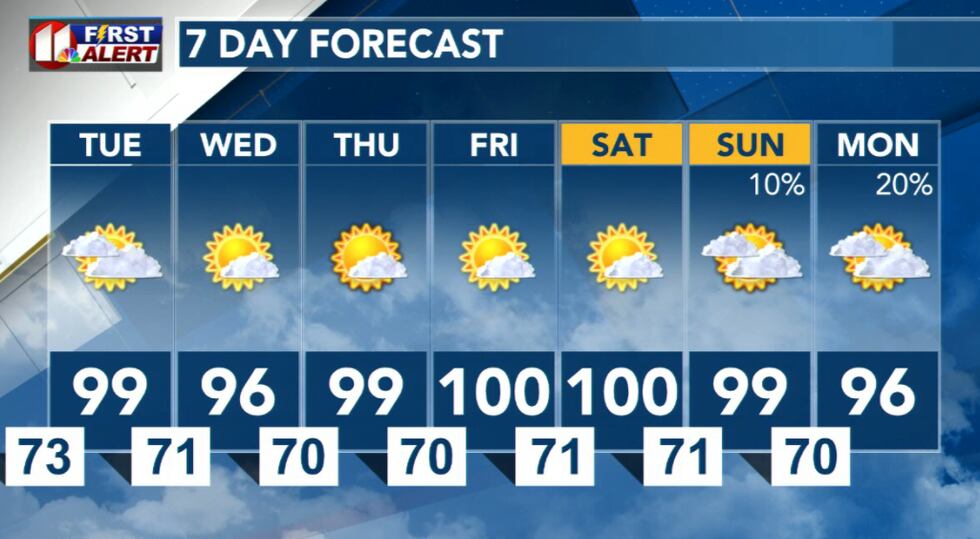 Copyright 2023 KCBD. All rights reserved.