The heat, triple digits are back tomorrow
Published: Aug. 15, 2023 at 4:50 PM CDT
|
Updated: Aug. 15, 2023 at 10:46 PM CDT
LUBBOCK, Texas (KCBD) - Overnight temperatures will be in the upper 60s with mostly clear skies tonight. This is the last night we expect to see temperatures in the 60s for the next seven days. South winds will be around 5 to 10 mph.
Wednesday will be hot as triple digits return. Here in Lubbock temperatures will top out near 102°. Sunny skies are expected throughout the day with southwest winds between 10 to 15 mph.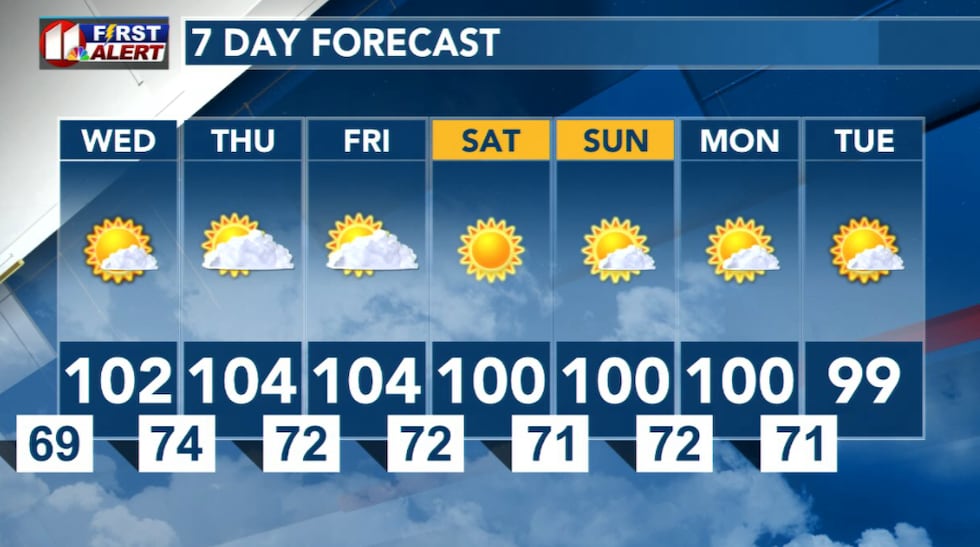 Thursday and Friday will be the hottest days of the week with temperatures near 104°. Expect sunny skies for your Saturday with highs around 100°. As of right now next Tuesday looks like the text time we will see double-digit temperatures.
Copyright 2023 KCBD. All rights reserved.