Lubbock Junior Little League team one tournament away from World Series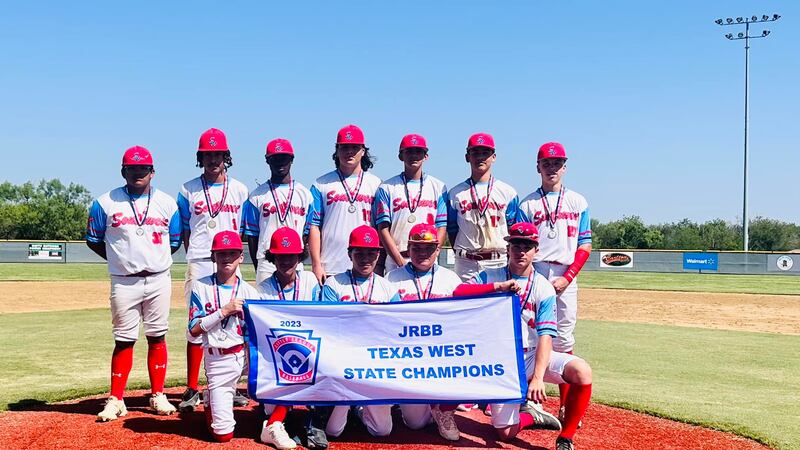 Published: Jul. 28, 2023 at 8:08 AM CDT
|
Updated: Jul. 28, 2023 at 8:15 AM CDT
LUBBOCK, Texas (KCBD) - Lubbock's Junior Little League Team, the 'Southwest,' is one tournament away from going to the World Series. The team of 13 and 14-year-old boys is regionals bound, heading to Albuquerque next weekend.
For the Southwest, baseball is in their blood. Most of the team has been playing since they can remember, like Ryan Prieto.
"I enjoy it because like the experience you get, and it's fun and the people you get to hang around with," Prieto said.
The Southwest is undefeated so far, recently winning the Little League Junior Division State Championship. Head Coach Joe Vasquez says his team has got more work to do.
"We went to state and we won state but we're not satisfied yet and the boys are not satisfied yet. They're hungry. They want to bring a championship home for Southwest and for Lubbock," Vasquez said.
This team heads to the regional tournament for its first time in Albuquerque August 4-8. A tournament win there, and it's headed to the Junior Little League World Series in Michigan August 13-20.
Player Jeremiah Vasquez says it will be a challenge, but the team works even harder under pressure.
"When we're down, we just come back, work as a team," Vasquez said.
"We're a baseball family. That's what they are. So, if we work as a family, I mean you can see it here on the field. These boys, they're pretty good with each other, they all work together," Coach Vasquez said.
The boys say their families off the field have been there to support the whole season.
"Very cool for them to come out and see us play," player Ricky Montoya said.
Now, the team is fundraising to help these families get to regionals.
"We're trying to do a big fundraiser for the boys, 'cause you know, like you said, us parents have to take the boys down there. It gets pretty expensive, so that's what we're trying to do. We're trying to do some fundraisers for the boys," Vasquez said.
Saturday morning, the team is selling brisket plates from 11 a.m. until they sell out in the Cardinal's parking lot at 6524 Slide Rd.
Tuesday, customers can eat at any Bigham's location and mention the Southwest when ordering and checking out to support the team.
You can also help the Southwest players and families get to the regional tournament through this GoFundMe.
Copyright 2023 KCBD. All rights reserved.