Hot Today, Hotter Tomorrow!
Published: Jul. 11, 2023 at 8:06 AM CDT
|
Updated: Jul. 11, 2023 at 12:50 PM CDT
LUBBOCK, Texas (KCBD) - Thunderstorms from overnight clear out through the morning and early afternoon, before thunderstorm chances pick back up in the afternoon, along with temperatures. Highs today in the triple digits across the area, with about 103 high in Lubbock. Thunderstorm chances this afternoon are low, with some models predicating limited capability and others squeaking by. Brass tacks: non-severe thunderstorms possible but chances are slim.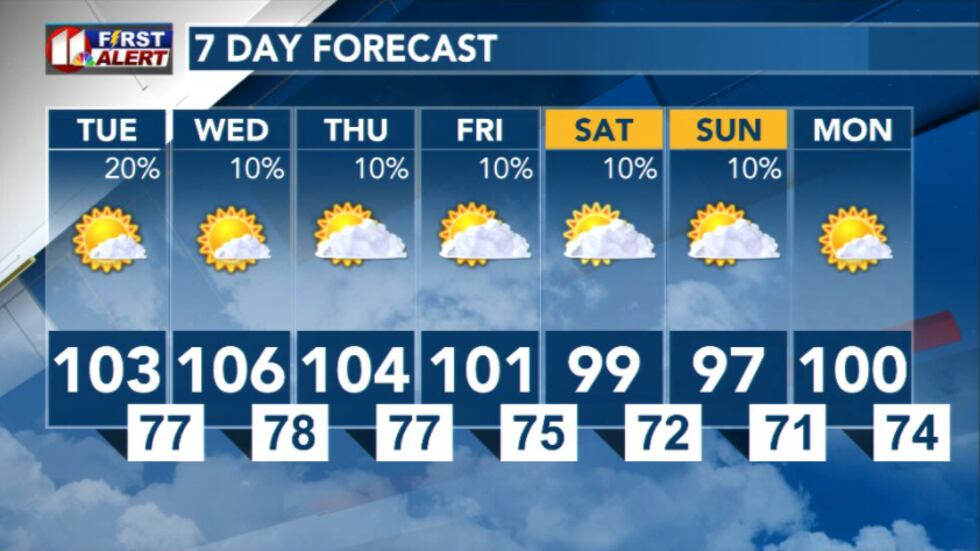 The high temps continue to grow tomorrow, jumping here in Lubbock to 106. Temps stay in triple digits for a few days, though slowly backing off. By the weekend, temps down to the upper 90s. Slight rain chances continue for several days.
Copyright 2023 KCBD. All rights reserved.