TTU BASEBALL: Big 12 semifinal set, Oklahoma State awaits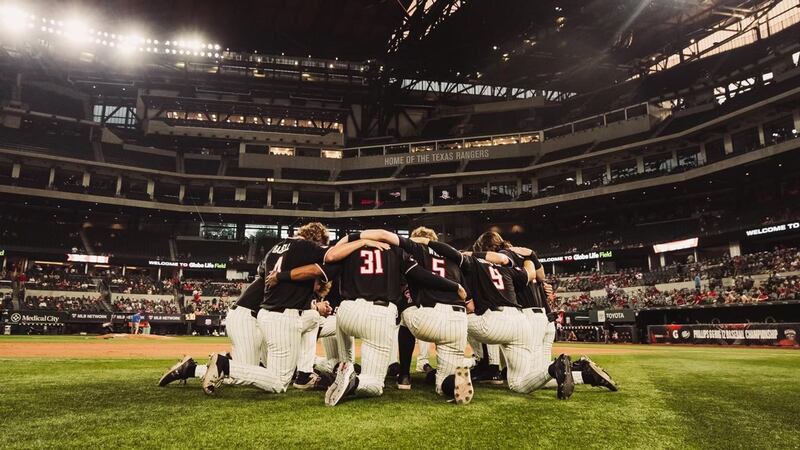 Published: May. 26, 2023 at 10:21 PM CDT
Provided by Texas Tech Athletics
ARLINGTON, Texas – Texas Tech learned Friday night it will face Oklahoma State on Saturday at 12:30 p.m. for a chance to advance to its first Big 12 Championship game appearance since 1998.
Following the Red Raiders' wins on Wednesday and Thursday, Oklahoma State will have to defeat Texas Tech twice on Saturday to deny the Red Raiders from advancing to Sunday's championship game, set for 5 p.m. The two teams that remain standing on the other side of the Big 12 bracket are TCU and K-State. The Wildcats face the same situation as the Cowboys on Saturday. There are a pair of "if necessary" games on Saturday's schedule set for 4 p.m. and 7:30 p.m.
Oklahoma State defeated Oklahoma 8-3 in an elimination contest on Friday night at Globe Life Field. The Cowboys staved off elimination for a second-straight game, beating West Virginia on Thursday after falling in its first matchup to OU on Wednesday in the double-elimination tournament. The Cowboys used four different pitchers on Friday night, having started Ben Abram who went six innings. On Thursday against the Mountaineers, OSU used two pitchers - Nolen McLean (6.0 IP) and Juaron Watts-Brown (3.0 IP). In the opener, OSU started Carson Benge but moved on to four other arms after a 2 1/3 inning start.
The Red Raiders defied the odds late Thursday night, scoring three runs in the bottom of the ninth to defeat Oklahoma 10-9 and advance to Saturday's semifinal game without a loss. The Red Raiders overcame deficits of 5-0 and 9-5, scoring the final five runs that set up a walk-off victory in the bottom of the ninth. On Wednesday, the Red Raiders rode the arm of starter Mason Molina, who limited West Virginia to four hits over six complete innings, in a 6-2 win.
Copyright 2023 KCBD. All rights reserved.