Storm chances again Friday night; Tornado Watch in New Mexico
Published: May. 26, 2023 at 4:39 PM CDT
LUBBOCK, Texas (KCBD) - We are again watching the potential for thunderstorms to move across the area late Friday night through early Saturday morning.
The Storm Prediction Center has issued a Tornado Watch for much of the eastern half of New Mexico. It also stretches into Gaines County and parts of the Texas Permian Basin. Locally, Hobbs and Seminole are included in the watch, which goes until 11 p.m. Central/10 p.m. Mountain time Friday. The watch is in blue: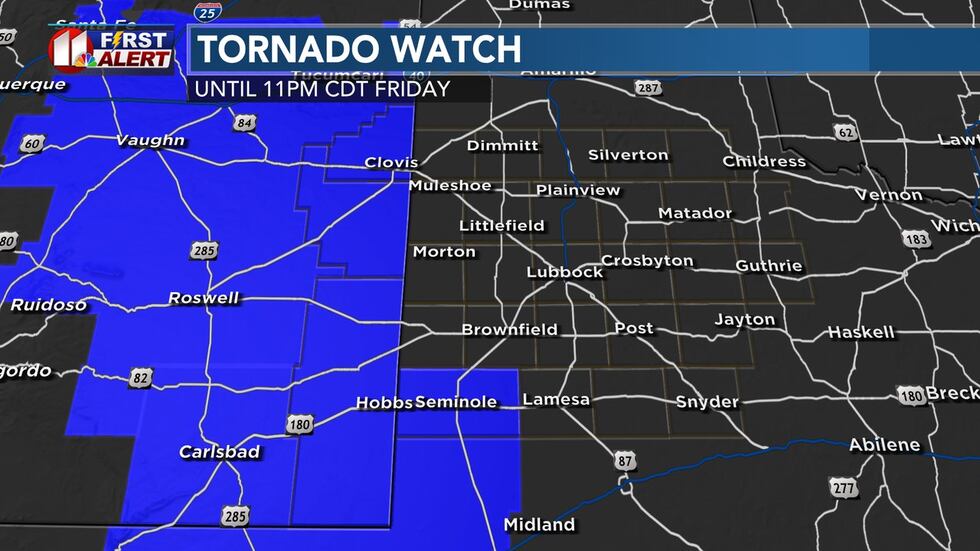 Severe storms are ongoing now well to the west, in central New Mexico. We've also had a few small showers/storms pop up near the Texas-New Mexico state line. Because of this morning's heavy rain, the atmosphere is more stable closer to Lubbock and the central South Plains right now.
There is more instability over the southwestern South Plains and Eastern New Mexico, including the watch area.
We expect more storms to move across Eastern New Mexico late this afternoon into the evening, then eventually move east of the state line. There will be better support for storms later tonight compared to this afternoon. Damaging wind gusts and hail will be possible. Storms will also bring the threat of flooding.
Looking ahead to Saturday, it'll be like today...early morning storms may keep the atmosphere stable for much of the day. But then there is a chance for storms again late Saturday into Saturday night.
The chance for late-day storms continues Sunday and Memorial Day, with at least a slight chance for storms late each day through the middle of next week.
Be sure you have alerts enabled on the KCBD First Alert Weather App. It will send you customized notifications for your location.
Copyright 2023 KCBD. All rights reserved.