After morning storms, additional severe weather likely late
Published: May. 26, 2023 at 6:53 AM CDT
|
Updated: May. 26, 2023 at 1:11 PM CDT
LUBBOCK, Texas (KCBD) - update 1:07 p.m. - Storms have exited the eastern part of our area. The atmosphere is relatively stable now on the South Plains, meaning it's quiet from storm development next few hours.
Now our focus is on storm development this afternoon in Eastern New Mexico. The mid-day Storm Prediction Center outlook shows the greater severe risk from Roswell and Carlsbad to the state line and eastward to Hobbs, Plains and Seminole.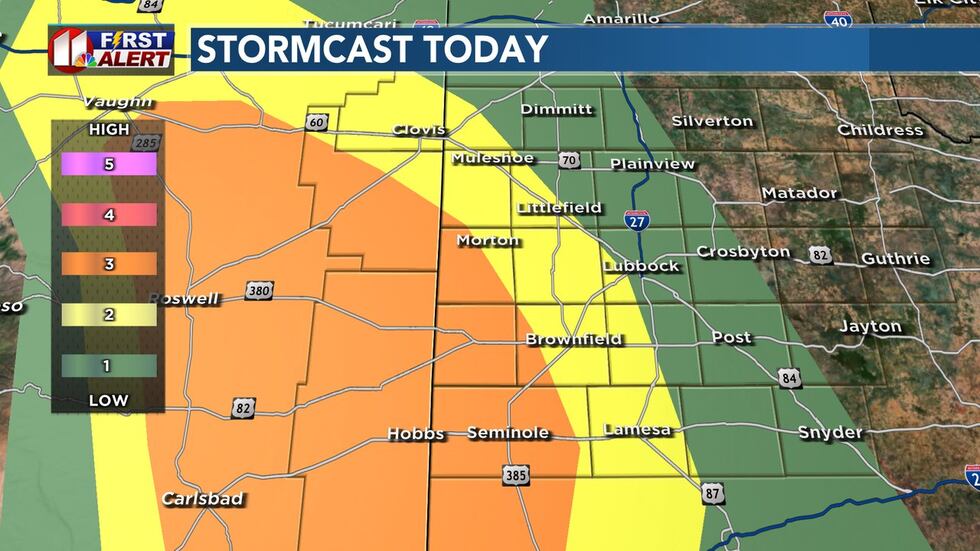 The orange area is where severe storms with large hail and damaging wind are more likely. A tornado is also possible in this area.
Storms will then move farther east, east of the Texas-New Mexico state line, this evening into late tonight. Some severe weather will be possible. As the outlook shows, the severe risk should trend lower the farther east storms move...though we can't rule out damaging wind with storms all the way through early Saturday morning.
update 10:02 a.m. - The line of thunderstorms continues to move southeast, now pushing off of the Caprock. At the moment there are no severe warnings in place. This line will bring heavy rain and some gusty wind.
With the line clearing, things will be quiet mid-day into the afternoon. Then, we'll wait for the next round of development, likely in Eastern New Mexico. The severe weather potential ramps back up, mainly for the southwestern part of our area, late this afternoon into tonight.
update 7:58 a.m. - The NWS has issued a flash flood warning for Lubbock and much of Lubbock County, in effect until 9:15 a.m. Friday.
* AT 742 AM CDT, DOPPLER RADAR AND AUTOMATED RAIN GAUGES INDICATED THUNDERSTORMS PRODUCING EXTREMELY HEAVY RAIN ACROSS MOVING INTO THE LUBBOCK AND THE WARNED AREA. RAINFALL AMOUNTS OF 1 TO 1.5 INCHES ARE LIKELY IN THE WARNED AREA. FLASH FLOODING IS ONGOING OR EXPECTED TO BEGIN SHORTLY.
Watch frequent updates as the line moves across the South Plains on KCBD's Good Day Lubbock on FOX34.
Overnight thunderstorms inch their way through the area throughout the morning, bringing widespread heavy rainfall and flash flooding. By late this morning, early afternoon, thunderstorms and showers are cleared out. The primary threats with this collection of sluggish storms is flash flooding. Once cloud cover clears, daytime heating is expected to prime areas this afternoon for potential severe weather this evening and overnight. Threats include localized hail up to baseball sized, and wind gusts 60-70 mph. Spin up lower end tornadoes are possible with these storms. By early Saturday morning, storms begin to clear out.
Highs today range the 70s, with low 70s in the north and upper 70s in the south. Overnight lows drop to the upper 50s through mid 60s. Highs Saturday drop to the low 70s, picking back up to the upper 70s for Sunday and Memorial Day, and low 80s Tuesday through Thursday. Thunderstorm chances, some potentially severe, continue through the next 7 days.
Copyright 2023 KCBD. All rights reserved.