Texas Tech baseball hosts KU for final home series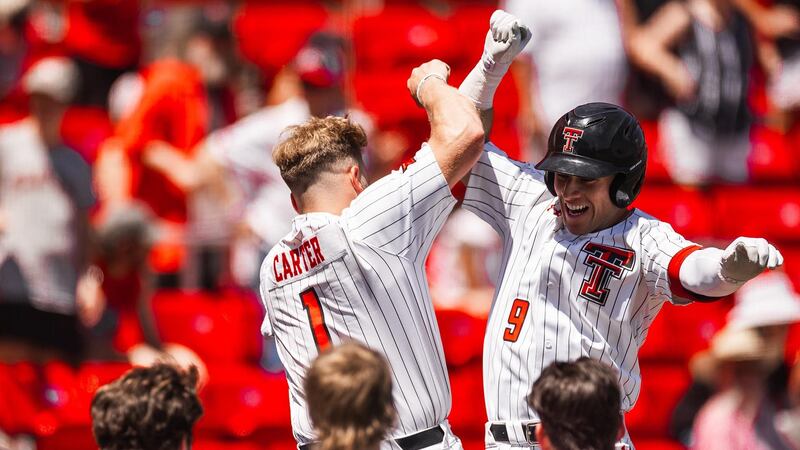 Published: May. 18, 2023 at 8:50 AM CDT
LUBBOCK, Texas (KCBD) - Thursday starts the last regular season series for the Texas Tech Red Raider baseball program.
Head Coach Tim Tadlock and the team will take on the Kansas Jayhawks in a 3-game series.
This series is still much at stake as the Red Raiders could finish anywhere from second to eighth in the league going into the final three games in a season that the Big 12 standings have seen little to no separation.
Here are the game times for this weeks series finale.
Thursday, 6:30 p.m.

Friday, 6:30 p.m.

Saturday, 2 p.m.
Saturday afternoons game will be capped by honoring six seniors prior to the finale. .
Tech will honor Bo Blessie (2nd yr. at Tech/Midland College/Midland, TX), Ty Coleman (2nd yr. at Tech/Texas A&M/Midland, TX), Ethan Coombes (1st yr. at Tech/Lubbock Christian/Roswell, NM), Garrett Crowley (2nd yr. at Tech/Fordham/Queens, NY), Nolen Hester (1st yr. at Tech/Wofford/Mount Pleasant, TX) and Zac Vooletich (2nd yr. at Tech/Navarro College/San Antonio, TX).
Now when it comes to national rankings, Texas Tech continues to climb in the RPI, but the Red Raiders have dipped out of every poll this week outside of the National Collegiate Baseball Writer's Association Top 30.
The Red Raiders were ranked No. 14 in the D1Baseball poll and owned an RPI of No. 66 on Thursday, April 27 going into its matchup versus K-State.
After losing that series, Tech dropped out of the D1Baseball poll but remained in the Baseball America, Coaches poll and NCBWA poll.
While unranked in all but one on May 17, the Red Raiders RPI has improved to No. 41 during that stretch.
Copyright 2023 KCBD. All rights reserved.