Texas Tech men capture Big 12 outdoor title
The men's team complete the season sweep winning both indoor and outdoor titles.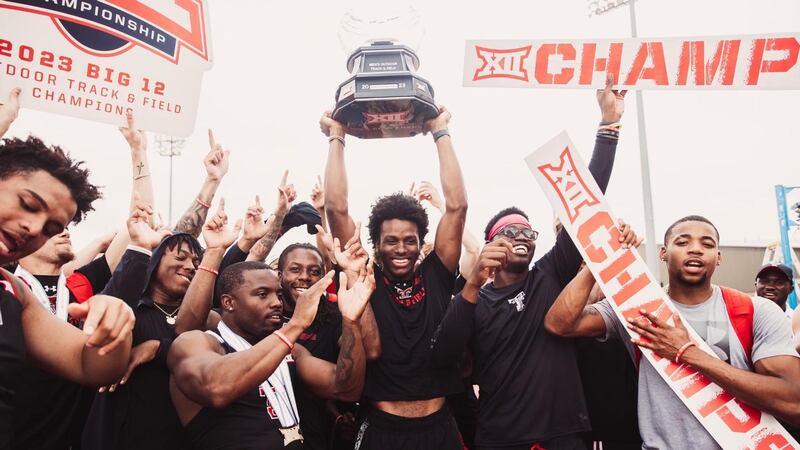 Published: May. 14, 2023 at 7:28 PM CDT
Provided by Texas Tech Athletics
NORMAN, Okla.– The Texas Tech men's track and field team entered Sunday with 30.5 points and left with a Big 12 record 179 points as Tech claimed its fifth conference outdoor title Sunday afternoon at John Jacobs Field. The Red Raiders scored in every event they were entered in.
Team Scores Men
Texas Tech – 179
Texas – 125.5
Kansas – 117
OU – 93
Iowa State – 85
Oklahoma State – 82
Baylor – 70
Kansas State – 39
TCU – 25.5
Team Scores Women
Texas – 197
OU– 127
Iowa State – 107.5
Texas Tech – 93.5
Oklahoma State – 80
Baylor – 54.5
Kansas State– 48
Kansas – 46
TCU – 43
WVU – 21.5
Eight Red Raiders/teams were crowned individual champions Sunday, including Courtney Lindsey who was a part of three first place finishes en route to earning the meet's "Highest Point Scorer" award. Lindsey started off the day running the second leg on Tech's winning 4x100 relay (Adam Clayton, Lindsey, Don'Dre Swint, Terrence Jones) that clocked in a new school record of 38.24. That time was also a new meet and facility record.
Lindsey then captured the 100m title with a 10.08 (2.1w) before capping off his day winning the 200m with a time of 20.21(1.1w). Caleb Dean swept both the 110 and 400 hurdles. In the 110 hurdles, Dean clocked in at 13.44 (2.3w) and registered a time of 48.39 in the 440 hurdles – Big 12 record and facility record.
Zach Bradford claimed his fifth-straight Big 12 title in the pole vault (moved indoors) clearing 5.87m (19-3). Devin Roberson earned his second-straight Big 12 crown in the discus, going 59.24m (194-4) on his second heave. Keyshawn King's second leap of 15.95m (52-4) earned him his first Big 12 trophy.
Meanwhile, on the women's side, TTU crowned three individuals. Sylvia Schulz provided an exciting finish in the 400 hurdles as she posted a sub-57 time for the first time in her career, claiming her first conference title. Schulz leaned out at the finish line for a time of 56.32, lowering her own school record. Demisha Roswell defended her 100 hurdles title running a 13.02 (1.0w), while Malin Smith threw a mark of 56.41m (185-1) for her first Big 12 trophy.
Notables
The Red Raiders went 2-3-4 in the women's triple jump – Ruta Lasmane, Anne-Suzanna Fosther-Katta, Onaara Obamuwagun.
Both 800m runners scored for Tech in Michaela Lewis and Marco Vilca.
Men's pole vault scored three in the top-7 – Zach Bradford (1st), Logan Fraley (5th) and Colton Naffziger (7th).
Chris Welch scored 2nd in the men's triple jump.
Edward Rush scored 6th in the men's 5k with a SB time of 14:18.14.
The women's 4x400 team finished third with a time of 3:33.83.
Up Next
Tech will have the week off before traveling to Sacramento, Calif., for the NCAA West Regionals.
Copyright 2023 KCBD. All rights reserved.