94-year-old East Texas woman awarded black belt in martial arts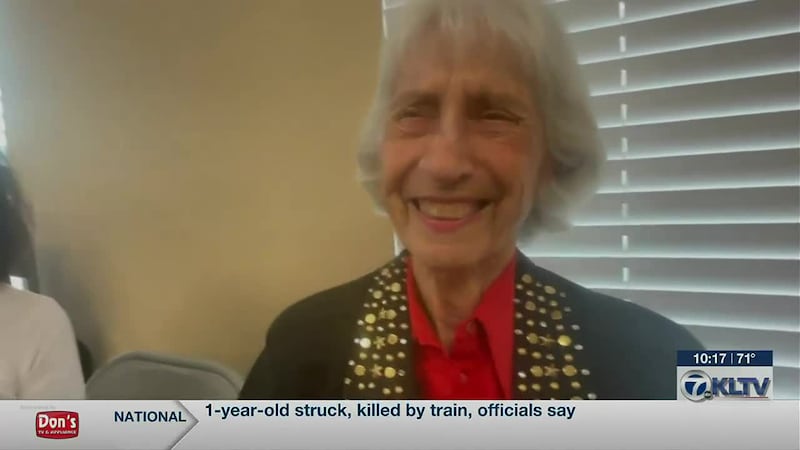 Published: May. 15, 2023 at 7:09 AM CDT
HOLLY LAKE RANCH, Texas (KLTV) - A little East Texas lady proves that it is never too late to achieve your goals. At 94 years old, she has been awarded the rank of honorary black belt.
At a Holly Lake Ranch martial arts class, a special student was singled out for an honorary black belt, at 94 years old.
Marjorie Miner didn't even begin martial arts until her late 80s.
"It's a big thrill. I'm really honored," she said.
"I know she would love to be at a different level, but age has a way of catching up with folks, but the thing that's nice is she keeps trying. Keep going after it," said son Jim Miner.
Marjorie's life reads like an achievement list. She worked as an actress in Hollywood movies, even appearing in some local short films in her 90s. She worked in political campaigns as well.
The Covid pandemic and health concerns forced her to forgo classes for a time, but that didn't stop her from practicing her forms at home.
"We do the original because that's the one I know best," she said.
Her family said they are not surprised with her latest achievement.
"Different points in time represent a highlight, but this definitely will be a highlight for her, particularly at this age. It's significant, and it will be well remembered, and it's very much appreciated by the family as well. To overcome some of the trials and tribulations that she's faced with and to stick with it, I admire that," Jim said.
Marjorie offered a piece of advice
"If you decide it's going to happen, it will. Never want to stop. Keep looking forward to what can we do tomorrow. That's from young people like me!" she said.
Marjorie is also the founder of a scholarship fund in her name for students in her original state of Arizona.
Copyright 2023 KLTV. All rights reserved.