Tech drops series rubber match at No. 12 WVU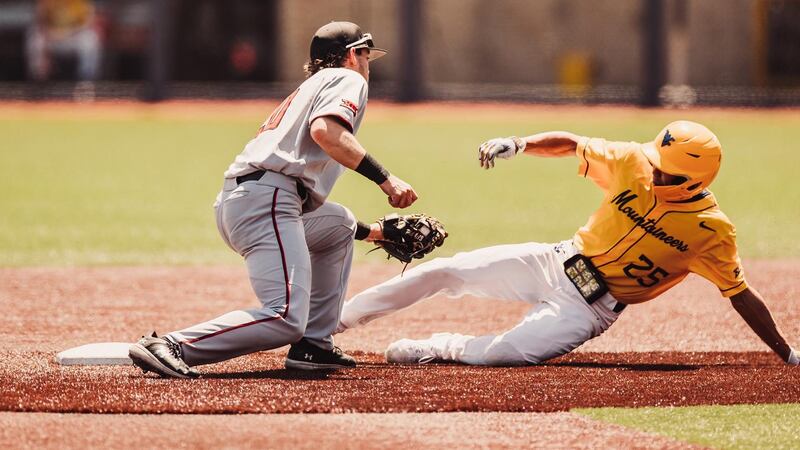 Published: May. 14, 2023 at 5:59 PM CDT
Provided by Texas Tech Athletics
MORGANTOWN, W.Va. – Texas Tech dropped Sunday's rubber match against No. 12 West Virginia, 5-3, at Monongalia County Ballpark. The Red Raiders led 3-2 after the first four innings but were held without a hit the remainder of the game while the Mountaineers mounted the come-from-behind win.
The Red Raiders leadoff hitter reached base in each of the first four innings. Three of the four were walks issued by Mountaineer pitching; each was manufactured into runs in the first, second, and fourth innings respectively.
The game was tied 2-2 after the first three innings before the Red Raiders went in front in the top of the fourth, 3-2. Tracer Lopez recorded his second RBI of the game having produced a run on a fielder's choice in the second inning.
West Virginia's J.J. Wetherholt tied the game, 3-3, with a two-out solo home run in the bottom of the fifth. It was the Big 12 batting average leader's 15th home run of the season.
The Mountaineers took their first lead in the sixth, 5-3, using their second home run in as many innings. Caleb McNeely hit a two-run home run to deep right-center field in the sixth that followed a bloop single to right field.
A two-out WVU throwing error in the eighth snapped a string of 12 consecutive Red Raiders retired. It snowballed on the Mountaineers into the bases being loaded with back-to-back walks worked by Austin Green and Dylan Maxcey. Dillon Carter struck out, ending a 1-for-4 day at the plate, and the Texas Tech threat.
Tech went down in order in the ninth, capping a no-hit 5 2/3 innings relief effort by the Mountaineer duo of David Hagaman and Carlson Reed. Hagaman picked up the win in a career-long outing of 3 2/3 innings while Reed earned the two-inning save.
The Red Raiders utilized seven pitchers. Zane Petty started but went just two innings having also made a start for the Red Raiders earlier in the week on Tuesday. Ryan Free was stretched the longest out of the pen, going three complete innings. Josh Sanders was charged with the loss, surrendering McNeely's sixth-inning home run.
Vooletich led Tech from the plate going 2-for-5 in a contest Tech has just five hits. The senior has successfully hit in 18 of the last 19 games he's played in.
Up Next
Texas Tech returns home to conclude the regular season, May 18-20, as Kansas comes to town. The Red Raiders will celebrate six seniors on Senior Day on May 20.
Copyright 2023 KCBD. All rights reserved.