Texas Tech outduels No. 23 Iowa to clinch series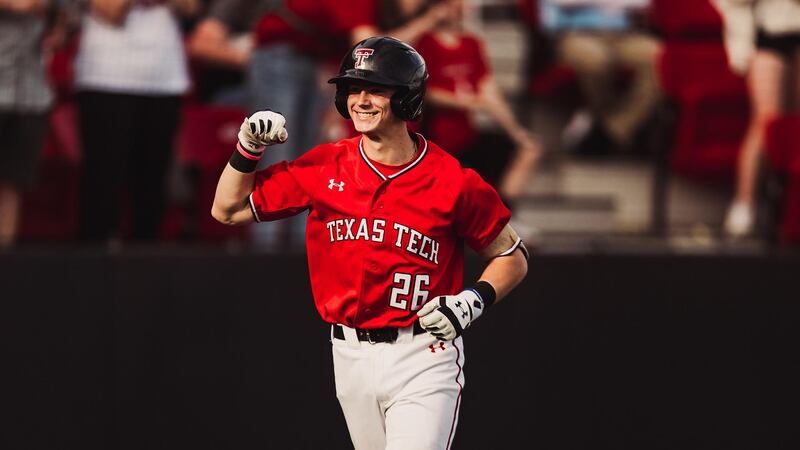 Published: Mar. 11, 2023 at 8:03 PM CST
Provided by Texas Tech Athletics
LUBBOCK, Texas – With an 8-3 victory, the Texas Tech baseball team clinched its weekend series versus No. 23 Iowa on Saturday afternoon at Rip Griffin Park. A pitcher's duel through the first five innings that produced a 1-1 score, flipped to a Red Raiders' hitting spree over the final three frames that registered seven runs.
Texas Tech's Mason Molina squared off with Iowa's Brody Brecht for Saturday's pitching matchup. Molina entered the game 2-0 and tossed a career-high 11 strikeouts in last week's start while Brecht came in highly touted as a preseason all-American, owning a triple-digit fastball with a dual-sport background as also a member of the Hawkeye football team.
"I was really excited about watching our guys compete against [Brecht]," said head coach Tim Tadlock. "I think they were up for the challenge. I think they were going to the plate to hit and were excited about it. He was really good. I think his stuff is really good. It's really hard when a guy throws 101 mph to make good swing decisions. Sometimes you're going to swing at pitches you think are there and they're not. The guys did a good job being where their feet are."
While Brecht was limiting Red Raiders hitters, Molina was doing the same to Iowa. The Red Raider southpaw did not get the win but tossed an effective five innings in the no-decision start. He allowed four hits scattered across the outing and struck out seven, eclipsing the 100-career strikeout milestone in the process. Molina issued only one walk. Brecht, meanwhile, was charged with two runs off five hits in six innings on the mound. He struck out seven and walked three in the loss.
"I just went about my business trying to match [Brecht] every inning," said Molina. "You know, just go out there and play my game, not trying to pitch like him. It was fun to watch though. That guy threw pretty good and so it was a good game."
Brandon Beckel (2.0 IP) and Trendan Parish (2.0 IP) completed the game for Tech. Beckel started the sixth inning in relief, and the go-ahead run was plated later in the home half of the sixth giving him his second win this season. Parish took over a 4-2 game in the eighth and picked up his first save this season punching the final six outs.
After Tech took a 2-1 lead in the sixth, the Red Raiders outscored Iowa 6-2 in the seventh and eighth innings setting up an 8-3 game in the ninth for Parish to close the book on.
The Red Raiders scored a pair in the seventh thanks to a two-out rally. Hudson White singled while Nolen Hester drew a walk. Tracer Lopez followed with a bases-clearing triple to give the Red Raiders a 4-1 lead. Iowa answered with two runs itself the next half-inning to close the gap back to one, 4-3, when the game moved to the bottom of the eighth.
Tech's four-run outburst in the bottom of the eighth clinched the win. Gavin Kash connected for a one-out solo blast that traveled 487 feet past the right-center fence. Dylan Maxcey followed with a solo shot himself, his first career home run, pushing Tech in front 6-3. The Red Raiders scored two more by cashing in on a pair of back-to-back walks drawn by Dillon Carter and White that Hester knocked home with a double to left field.
Up Next
The Red Raiders' series finale versus Iowa is slated for 1 p.m. on Sunday.
Copyright 2023 KCBD. All rights reserved.