Three Lady Raiders earn All-Big 12 honors
Guards Bre'Amber Scott (First Team), Bryn Gerlich (Honorable Mention) and Bailey Maupin (All-Freshman) were honored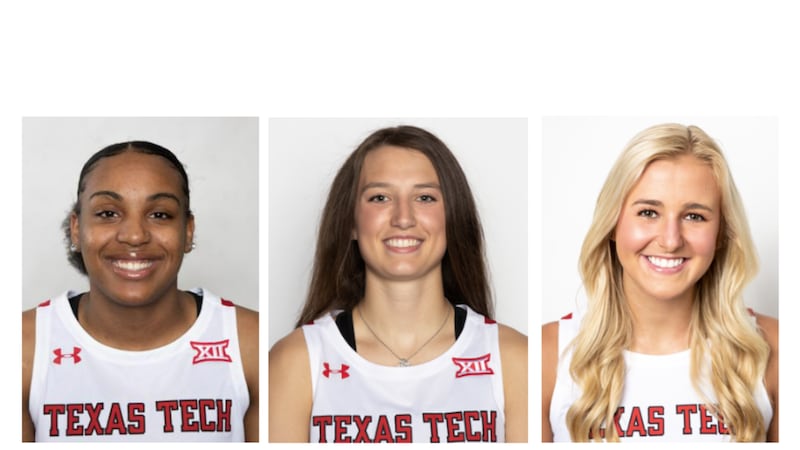 Published: Mar. 6, 2023 at 5:34 PM CST
|
Updated: Mar. 6, 2023 at 5:45 PM CST
IRVING, Texas (NEWS RELEASE) - A trio of Texas Tech Lady Raiders were honored in this year's Big 12 All-Conference awards, announced Monday afternoon.
Tech guard Bre'Amber Scott was awarded First Team All-Big 12 honors while classmate Bryn Gerlich was tabbed an honorable mention selection. After winning a pair of Freshman of the Week honors, Bailey Maupin was selected to the All-Freshman team.
A native of Little Rock, Scott evolved into one of the best scorers in the league this season, scoring in double figures in 21 games. The guard averaged 16.7 points and 6.1 rebounds per game and scored over 450 (467) points this season. Scott had a pair of 30-point games including a career-best 37 against Kansas State back on Jan. 14 and eight 20-point games. Scott scored seven of her eight 20-point games in conference play including six straight 20-point outings (Jan. 4-18).
Tech's second honoree, Gerlich, elevated her play during the second half of Big 12 play. Starting with a career-best 25-point performance at OSU, Bryn scored in double figures in six straight games. Over that span Gerlich scored 98 points (16.3). For the season, the OSU transfer scored 9.1 points per game and dished out 93 total assists. The guard scored 177 of her 274 points during Big 12 play where she averaged 10.4 points.
The Lady Raiders third and final honoree, Maupin, closed out a highly successful freshman campaign. Finishing as Tech's second-leading scorer, the Gruver native finished with 17 games with at least 10 points including a career-high 27 points in Tech's win over Mercer in Vegas (Nov. 26). Maupin shot 41.9 percent from the floor and 83 percent from the line. Tech was 11-6 this season in her double-figure games.
Iowa State senior guard Ashley Joens earned Big 12 Player of the Year honors, while Texas Guard Rori Harmon was tabbed the league's Defensive Player of the Year. OUs Skyler Vann took home Six Player of the Year while Baylor forward Darianna Littlepage-Buggs earned Freshman of the Year.
Texas head coach Vic Schafer was named the Big 12 Coach of the Year after leading the Longhorns to a share of the 2023 Big 12 Regular Season Title.
The Lady Raiders open play at the Phillips 66 Big 12 Championship on Thursday afternoon against Kansas State. Tip-off from Municipal Auditorium is set for 5 p.m.
Copyright 2023 KCBD. All rights reserved. Information provided by Texas Tech Athletics Communications.