Red Raider baseball beats Michigan 10-7 at Minute Maid Park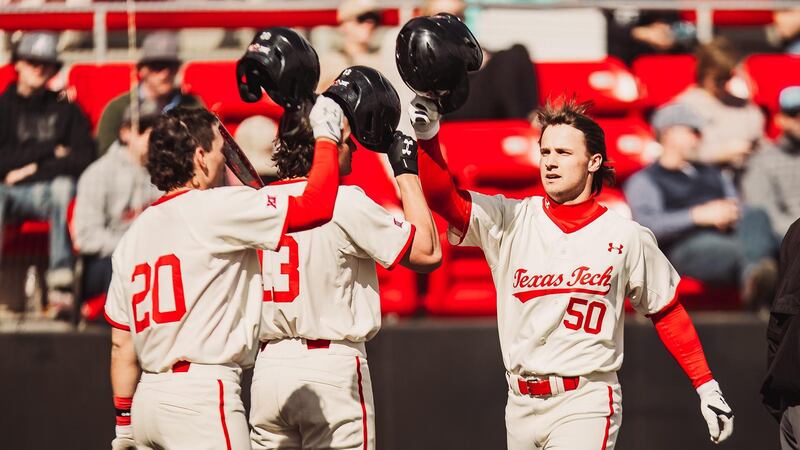 Published: Mar. 4, 2023 at 3:20 PM CST
LUBBOCK, Texas (KCBD) - Texas Tech (10-1) beat Michigan (4-6) at Minute Maid Park 10-7 on Saturday afternoon, putting them 11-1 overall on the season.
Texas Tech broke the ice in the bottom of the first inning with Kevin Bazzell hitting an RBI ground, out-scoring Nolan Hester, putting the Red Raiders up by 1.
Keeping the scoring alive, Gage Harrelson doubled, bringing Dillion Carter in in the bottom of the second.
Austin Green kept the snowball effect going, tripled to center field, the RBI brought around Harrelson, Tech up by 5.
After a quiet 4th and 5th inning, Gavin Kash flies out to center field; the sacrifice fly brought in Austin Green, Texas Tech led by 4 in the 6.
Texas Tech improves its all-time record over Michigan to 9-2. Tech starter Mason Molina recorded a career-high 11 strikeouts.
Texas Tech:
Austin Green - 3-4 | 2 RBI's
Gage Harrelson - 2-5 | 2B | 3B| 1 RBI
Kevin Bazzell- 1-5 | 2 RBI's
Michigan:
Cody Jefferis - 1-3 | 2 RBI's
Ted Burton- 1-5 | 2 RBI's
Tito Floures- 1-4 | 2 Rbi's
The Red Raiders will face Texas A&M Sunday evening at 7 p.m.
Copyright 2023 KCBD. All rights reserved.