FIRST ALERT WEATHER DAY: Major weather change this Thanksgiving Holiday Weekend
Published: Nov. 22, 2022 at 6:54 AM CST
|
Updated: Nov. 22, 2022 at 12:37 PM CST
LUBBOCK, Texas (KCBD) - We have made some significant changes to our forecast for the Thanksgiving Holiday Weekend. A potential winter storm may bring significant winter weather, and travel problems, to our area.
Change begins Thanksgiving morning as a cold front sweeps across West Texas. Data today indicates this front will be stronger than earlier indications. Thanksgiving will be mostly cloudy, windy, and cold. Precipitation looks unlikely... until late in the day.
First Alert Weather Day
We've added a slight chance of rain to our forecast for late Thursday. Plus, snow or a wintry mix now looks likely Thursday night through Saturday morning.
While it is too early to nail down possible snowfall amounts, some accumulation is likely. In some areas locally, it may be significant. Local travel may be negatively affected through Saturday morning.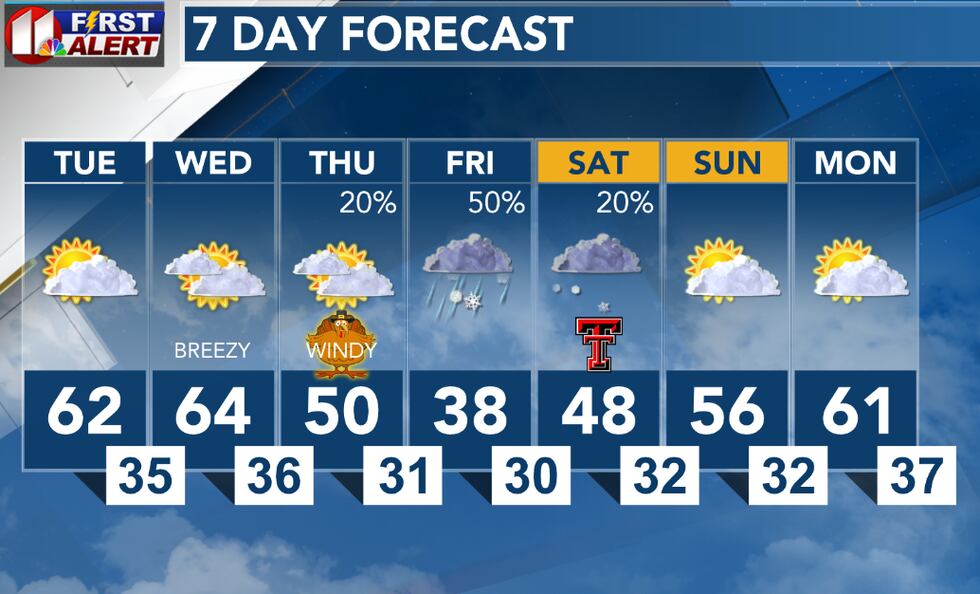 This may be a major winter weather event for our area. Note, it may be. As such, we are designating Friday, Black Friday, a First Alert Weather Day (FAWD).
All of this is based on data available as of now. New data, which flows into the KCBD Forecast Center throughout the day, every day, may prompt additional adjustments to the forecast. The weather outlook possibly could worsen, or improve.
Before Thanksgiving
This afternoon cloud cover will increase, becoming partly cloudy. Wind speeds will increase slightly, to about 12 to 13 mph. Temperatures will increase slightly, peaking near average for the time of year.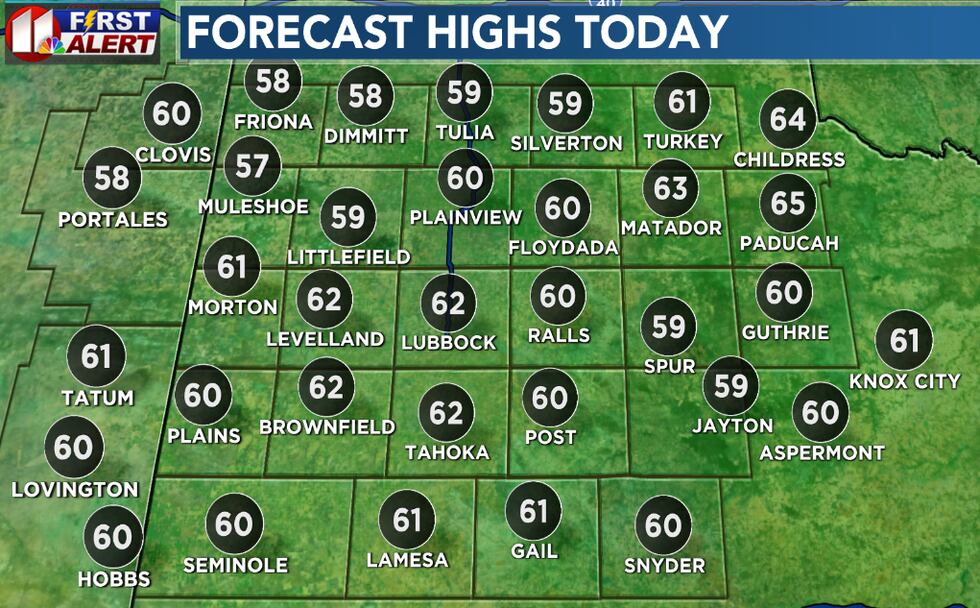 Wednesday afternoon will be mostly cloudy, breezy, and cool. Highs will be in the 60s.
Stay tuned or check out the latest in our Hourly and 10-Day forecasts here on our Weather Page and in our FREE KCBD Weather app.
Copyright 2022 KCBD. All rights reserved.