Big 12: Texas Tech Football Radio announcers reprimanded for calling out conference officials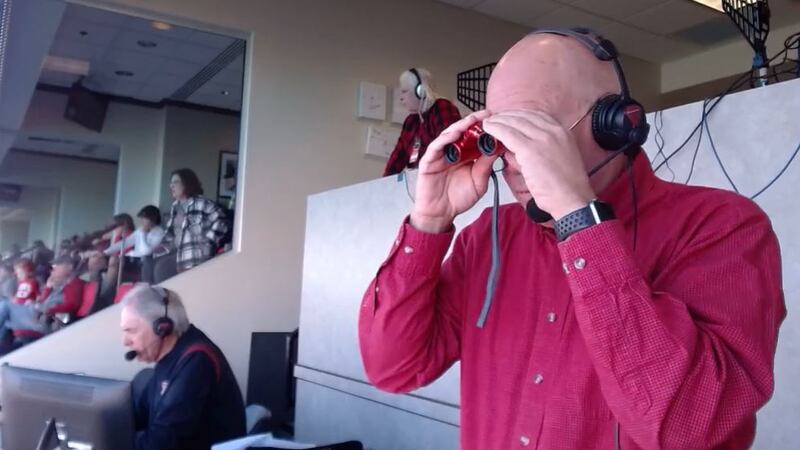 Published: Nov. 17, 2021 at 7:21 PM CST
LUBBOCK, Texas (KCBD) - Texas Tech radio booth announcers have been removed from calling the November 20 game against Oklahoma State after criticizing Big 12 Conference officials, calling them out by name.
Longtime play-by-play announcer Brian Jensen and Analyst John Harris on November 13, made critical remarks about the officiating crew during the Red Raiders' game facing Iowa State.
While names and comments are not specified in the Big 12′s statement, Harris and Jensen criticized rulings from the officials multiple times, saying the Big 12 and conference Commissioner Bob Bowlsby needed to answer to the actions of the officiating crew in reviews against Red Raider plays.
"I'll say it right now, the Big 12 does not want Iowa State to lose this game," Harris said following the review of a possible interception by the Red Raiders was ruled an incomplete pass by officials, on top of an unsportsmanlike conduct penalty against four Tech players.
"Bob Bowlsby, you need to answer to this, this is ridiculous," Jensen responded. "I just hope that Tech can come back out after this, score another one and put this one to bed so this officiating crew can sleep tonight."
The Red Raiders beat the Cyclones 41-38, after a 62-yard field goal kick from Senior Jonathan Garibay with three seconds left in the game.
Fans also questioned officiating during the Iowa State game, including the Texas Tech Football twitter account, posting the victory with a caption saying, "This final score can't be overturned."
The Big 12 issued an official statement on Wednesday, saying Jensen and Harris' comments "were contrary to expected levels of respect and professionalism" and they have been removed from announcing the Tech game on Saturday.
Read the full statement from the Big 12 Conference below:
In accordance with Big 12 Conference Sportsmanship and Ethical Conduct policies, the Conference has issued a public reprimand of the Texas Tech radio booth announcers. They have also been removed from announcing the Tech game on November 20th.
The actions have been taken in response to comments during Saturday's football game broadcast against Iowa State. "I understand the roles of the play-by-play and color analyst," commented Commissioner Bob Bowlsby. "However as University representatives they also have an obligation to adhere to Conference policy regarding comments about game officials. The comments by the Red Raider Radio Network booth announcers were contrary to expected levels of respect and professionalism. Questioning the integrity of Conference officials and specifically calling out members of the officiating crew is well beyond appropriate and permissible behavior."
Jensen and Harris hold almost 60 years announcing football between the two of them, with Jensen having been the play-by-play voice of Red Raider football since 2000. Harris first began his role as analyst for Texas Tech football in 1984.
Late Wednesday evening, Texas Tech baseball and basketball announcer Geoff Haxton was dubbed as a possible announcer for Saturday's game against the Oklahoma State Cowboys.
Hey everybody. Didn't want my 1st D1 football broadcast to be under these circumstances. But, honored to step in and represent the Red and Black on the mic. Can't wait. #wreckem

— Geoff Haxton (@GeoffHaxton) November 18, 2021
Texas Tech University has not released a statement on the announcers' removal at this time. Stay with KCBD for updates.
Copyright 2021 KCBD. All rights reserved.